Save on Fuel and Labor Costs with Optimized Routes
In the Building Supplies business, when it comes to delivery, there are specific areas you need control over:
Getting the Best Routes
Meeting Delivery Windows Chosen by Customers
Measuring and Minimizing Fuel Labor Costs
We like to tell our customers when it comes to routing, let the data do the driving. Our best-in-class routing engine can process all of your stops and set up hundreds of deliveries in seconds. What's more, it can perform this task while also adhering to customer time windows, analyzing traffic, and considering restrictions like low-hanging bridges and HGV designated roads.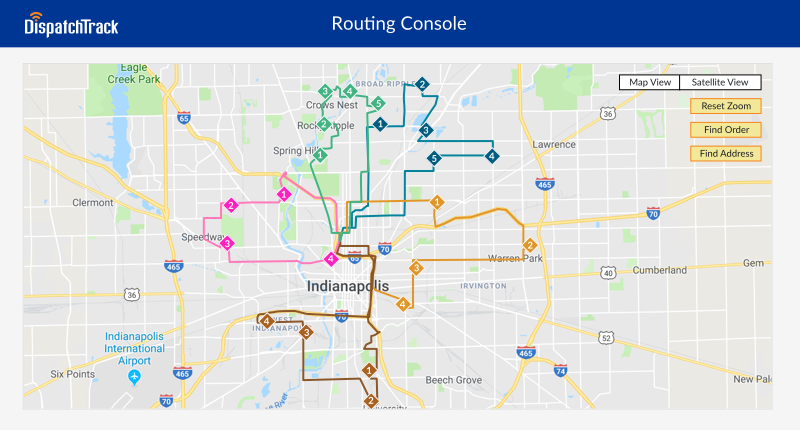 Coordinating with builders and foremen for delivery on job sites is crucial in the construction industry. The Reservation System works in tandem with the Route Optimizer to meet the desired delivery windows of customers based on capacities, delivery zones, and customer choice.
Minimizing Fuel Labor Costs and other expenses is essential. Labor is a significant expense, and delivery trucks aren't always fuel-efficient, but with Optimized Routing, you can reduce fuel costs and help avoid driver overtime all at once. The software continually improves your driver's efficiency, using continuous route optimization, based on historical traffic data and other patterns. In this way, your fleet of drivers is always getting the most up to date routing intelligence.
DispatchTrack gives you tools like Reporting and Routing Optimization to not only deliver the data, but the means to take action as well. Control all the parameters, in an easy-to-use map-based graphical user interface.

— Paul Ardente
Co-Owner at Ardente Supply Co., Inc.

Accurate ETA's and predictability.
The customer is planning their business based on receiving their product at a certain time. It is best to tell them what ti …
Read More


Customer Communication.
Predictability and transparency create trust. In delivery of building supplies, this equates to a competitive advantage. In…
Read More


Protect From False Liabilities with Proof of Delivery.
Delivery of Buidling Supplies involves orders of high value merchandise. Customers do blame liabilities on driver …
Read More


Real-time Visibility and Tracking.
Delivery of Buidling Supplies involves orders of high value merchandise. Customers do blame liabilities on drivers …
Read More