Let Customers Self-Schedule Their Deliveries While You Save on Labor Costs in the Office
Running any delivery operation is a complicated endeavor with a lot of details to manage as new orders come in steadily. And for every order, a date and time must be confirmed with your customers for their delivery.
On average, it takes office staff two and a half phone calls to reach the customer and schedule their delivery appointment, and that's if you're lucky enough to talk to someone who can make the final decision on the spot. Over the years, we've perfected a feature in the software that eliminates wasteful tasks, while giving your customers a premium experience.
Simply put, the DispatchTrack Reservation System is a game-changer for suppliers and builders.
Customers Love the Process
Saves You Hours in Office Labor Every Day
Avoids Miscommunication of Delivery Details
Lets Builders Buy Supplies Early and Coordinate with Precision
Capacity Aware and Changes Options as Customers Book Appts.
Automated to Scale, Sending many Inquiries at Once via text, or email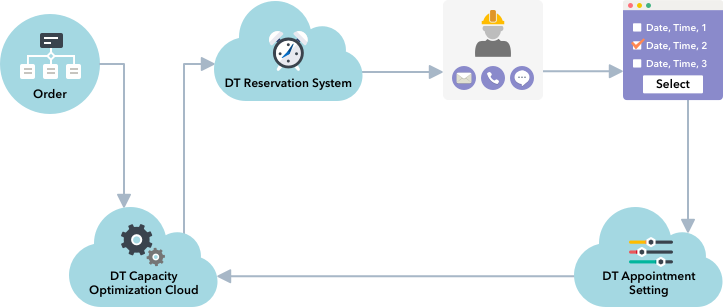 The system will automatically send out text messages, phone calls, and emails and allow the customer to self-book their deliveries at a time that's convenient for them.
Often, builders know in advance what materials are needed and may pre-purchase them even when there is no option to store them at the job site. The builder can choose the desired date & time of their delivery based on construction schedules. On your side, this happens while being capacity-aware and level-loading your trucks, only giving customers options based on your delivery zones and available capacities.
In this context, voice calls are becoming extinct because modern consumers prefer a text or email option when it comes to verification and appointment booking. It's faster, more accurate and simpler for everyone.