← Back to All News
DispatchTrack Named a Finalist for 2 VIP Awards—Winners Announced at NRF 2022
National Retail Federation Selects DispatchTrack as a Finalist in the Best Distribution Innovation and Best Longstanding Partnership Categories
---

DispatchTrack, a global last mile logistics software-as-a-service leader that powers positive, predictable, and visible experiences for shippers, drivers, and recipients, today announced that it had been named a finalist for 2 VIP (Vendors in Partnership) Award categories:
Best Distribution Innovation—Recognizing "innovations affecting productivity, reduced costs, and speed to destination." DispatchTrack's AI-powered logistics software is under consideration for its ability to boost efficiency and create moments of customer delight across last mile deliveries.
Best Longstanding Partnership—Recognizing a "long-term relationship that has been forged by successes and adjustments." DispatchTrack is being considered for its fruitful, ongoing partnership with Ferguson Enterprises.
The VIP Awards are presented by NRF (the National Retail Federation) to recognize innovation and excellence among software solution providers that power the retail ecosystem. This includes not just solutions that have the power to increase efficiency across different retail touchpoints, but also the relations between vendors and retailers that ultimately drive the evolution of the industry towards smarter, more connected, more customer-centric operations.
Winners will be named at the VIP Awards ceremony at Gotham Hall in New York on 1/15, just ahead of the National Retail Federation (NRF) Big Show at the Javits Center 1/16-1/18.
"It's thrilling to have been named finalists in these two incredibly exciting categories," said DispatchTrack CEO and co-founder Satish Natarajan. "Everything we've built in our software we've built to help the retailers we work with deliver in the best way possible. That means empowering them to focus on relationships. The more we enable them to focus on the experience they're providing to their customers, the more we position them to succeed in an increasingly competitive marketplace. That's our mission in a nutshell, and it's always gratifying to have that mission validated."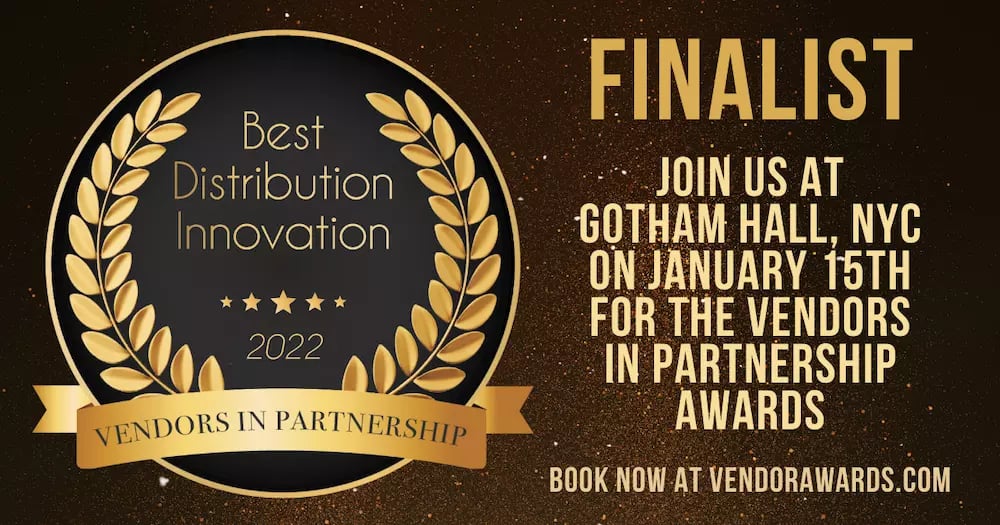 What Makes DispatchTrack the Best Distribution Innovation?
DispatchTrack utilizes AI, automation, and cloud technology to boost driver productivity and increase capability utilization, speed up last mile delivery times, and reduce operational costs. The result is that retailers using our solution can:
Meet 2-hour time window ETAs 98% of the time;
Reduce "where's my order" calls to virtually zero;
Respond to incidents in the field in 45 minutes on average;
Cut not-at-homes in half.
All this helps retailers to gain visibility, make deliveries more predictable, and delight their customers every time with efficient last mile distribution.
What Makes DispatchTrack + Ferguson the Best Longstanding Partnership?
Since the beginning of DispatchTrack's partnership with Ferguson Enterprises, we've worked together closely in the spirit of innovation and trust to build cutting-edge last mile logistics technology, going beyond the usual boundaries of vendor-client relationships. The companies' many years of working in tandem have enabled Ferguson to create ever-more agility in their fulfillment process and empowered DispatchTrack to improve its technology. Ferguson had a clear vision of how best to improve visibility and efficiency throughout the fulfillment process—and DispatchTrack worked closely with them to understand that vision and adapt the company's technology to match. We also built out completely new technology for Ferguson to deploy, including a robust pickup logistics optimization system that simplified the process of fulfilling customer pickup orders.
About DispatchTrack
DispatchTrack is the leading provider of state-of-the-art high-tech software solutions for high-touch last mile deliveries. Since its founding in 2010, DispatchTrack has partnered with leading brands to make even the most complex deliveries predictable and visible while enabling seamless positive experiences in the last mile for shippers, drivers, and recipients alike. DispatchTrack's SaaS platform simplifies scheduling for both shippers and customers, determines the best delivery route and load for each truck, tracks each shipment at every step of the way, and keeps everyone, including customers, proactively informed on the shipment's progress. Our real-time engine turns the unpredictable into automated, fully-optimized events. From the warehouse to that "wow" moment for recipients, DispatchTrack delivers delight more than 180 million times a year.
For press inquiries, email brian@dispatchtrack.com