There's nothing like the hustle and bustle of a tradeshow floor—and after more than a year without the opportunity to connect in person with friends, customers, and industry players, it's been great to get back in the saddle and show off what's new with DispatchTrack's one-of-a-kind last mile optimization platform.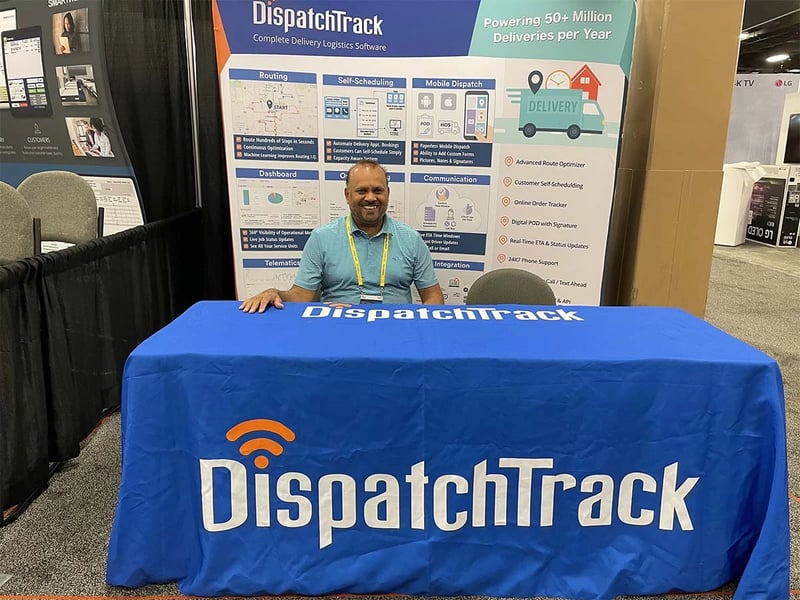 We've got plenty of events coming up, including the Home Delivery World Show starting tomorrow, and a host of others that you can check out on our events page. If you want to meet our team, get a look at our software, or just talk shop about the future of last mile delivery, we can't recommend a better way than visiting one of our booths at these upcoming shows.
If that piques your interest, read on for a rundown of what DispatchTrack has gotten up to recently in terms of industry events and trade shows:
DispatchTrack Shows Off the Latest in Last Mile Optimization at Nationwide PrimeTime
This August 15-18, DispatchTrack's own Bob Bauer and KB Madan headed down to Nashville, Tennessee for this year's Nationwide PrimeTime event. Plenty of longtime customers were thrilled to see them after such a long hiatus—there was no shortage of hugging and catching up.
Perhaps the biggest highlight of the event from our perspective was Bob and KB's NLA (Nationwide Learning Academy) seminar. 40+ Nationwide members—a mix of current customers and folks who were interested to learn about the platform—attended the seminar to learn about the new features DispatchTrack has been building out over the course of the last year. Here's just a few of the new improvements they covered:
DispatchTrack's unique pickup logistics optimization system, which helps retailers avoid traffic jams at their stores and warehouses when offering customer pickup options.
Improvements to our customer communication workflows, including pre-routing notifications and route start notifications.
New functionality in our route optimization interface, including next-day route overlays, reload orders, lunch break optimization, and more.
Custom reporting, our new exceptions tab, single sign-on, and a whole host of other small improvements to the functionality of the software.
And, as a special bonus, attendees got a sneak preview of DispatchTrack's two-way communication functionality—which we hope to roll out soon!
As if that weren't enough, the team also performed a host of product demos and gave away a free iPad Mini to one lucky winner. Stop by our booth at future shows, and you can enter to win a number of equally exciting prizes.
DispatchTrack at Brandsource Convention and Expo and Las Vegas Market
Right on the heels of Nationwide PrimeTime, KB stayed on in Nashville to man the booth at the Brandsource Convention and Expo from August 21st to 24th. Though this show was smaller in scale than the previous one, it was still a great opportunity to connect with customers old and new.
KB showed off the platform to some attendees who were interested in learning about new ways to solve last mile logistics hurdles—from automated customer communication, to real-time last mile visibility, to AI-powered route optimization. Plus, we gave away another iPad Mini to another lucky winner.
Meanwhile, Bob had split off and headed for Las Vegas to exhibit DispatchTrack's platform at the Las Vegas Summer Market (August 22nd - 26th). What happens in Vegas may stay in Vegas, but we're betting that anyone who got a demo from Bob came home with a pretty clear picture of how DispatchTrack uses automation to connect all last mile touchpoints, elevate the customer delivery experience, and ultimately strengthen our customers' brands.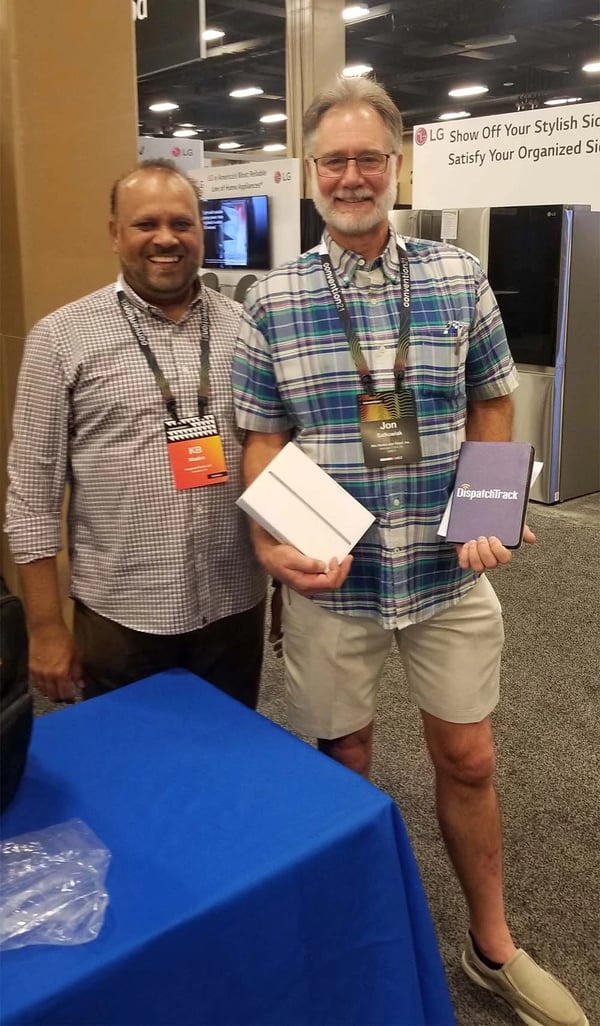 What's Happening Next?
If you're disappointed not to have gotten the chance to meet up with us in person yet—never fear! There are still plenty of chances to connect with us and learn more about how our platform powers smarter last mile delivery and better customer delivery experiences.
This week (September 1st - 2nd), we're headed to the Home Delivery World Show, in Philadelphia, PA. You can come visit us at Booth #527, or you can see DispatchTrack Co-Founder and CEO Satish Natarajan giving a talk on "The Evolution of Last Mile Delivery Logistics." He'll also be participating in an Urban Logistics Panel on "Drivers & Routes – What Technologies Help Optimize Delivery Routes and Improve Driver Efficiencies?
After the Home Delivery World show, we've got plenty more on the docket:
ECA MarketPlace (September 20th - 22nd, Orlando, FL: Booth #142)
National Beer Wholesalers Association Annual Convention (October 3rd - 6th, Las Vegas, NV: Booth #730)
High Point Fall Market (October 16th - 20th, High Point, NC: Plaza Suites - 1-527 #21, Floor 1, Area: HFA Retailer Resource Center, Shuttle Stop: 3 [Green Line])
FurnitureToday Leadership Conference (November 30th - December 2nd, Orlando, FL)
National Retail Federation Big Show (January 16th - 18th, 2022, New York, NY: Booth #3142)
Manifest (January 25th - 27th, 2022, Las Vegas, NV)
RILA's LINK2022 (February 20th - 23rd, 2022, Dallas, TX)
In short, there's plenty of opportunities left to see us in person. If you're headed to any of these shows, we hope you'll come find us! In addition to offering demos of DispatchTrack's software and other valuable information, at many of these shows we'll also be offering free giveaways to lucky contestants. At the very least, you might as well swing by and drop off a business card to be entered for the drawings. Prizes will vary from show to show, but there will be a sign at each booth letting you know what you can expect. In some cases, there will also be giveaways for anyone who gets a demo. At some shows there will even be smaller tchotchkes just for visiting the booth.
You can learn more about our upcoming events by checking out our events page. Or, you can download the informational materials we hand out at the events.
DispatchTrack is committed to solving important problems for our customers by tackling the complexities of last mile logistics and everything that comes with it. This is something that retailers and other businesses have had to grapple with for many years—but modern technology is finally making true optimization possible. That means there's never been a better time than right now to learn how DispatchTrack can improve your delivery logistics, delight your customers, and boost your bottom line.