There's been a greater demand for food delivery services in the last three years. Data from Technomic shows that 44 percent of restaurant sales are from off-premise dining, 25 percent of which comes from food delivery orders. According to Restaurant Business, 21 percent of restaurant-goers are shifting from takeout orders to delivery orders. The percentage is even higher for consumers18 to 24 years of age at 30 percent.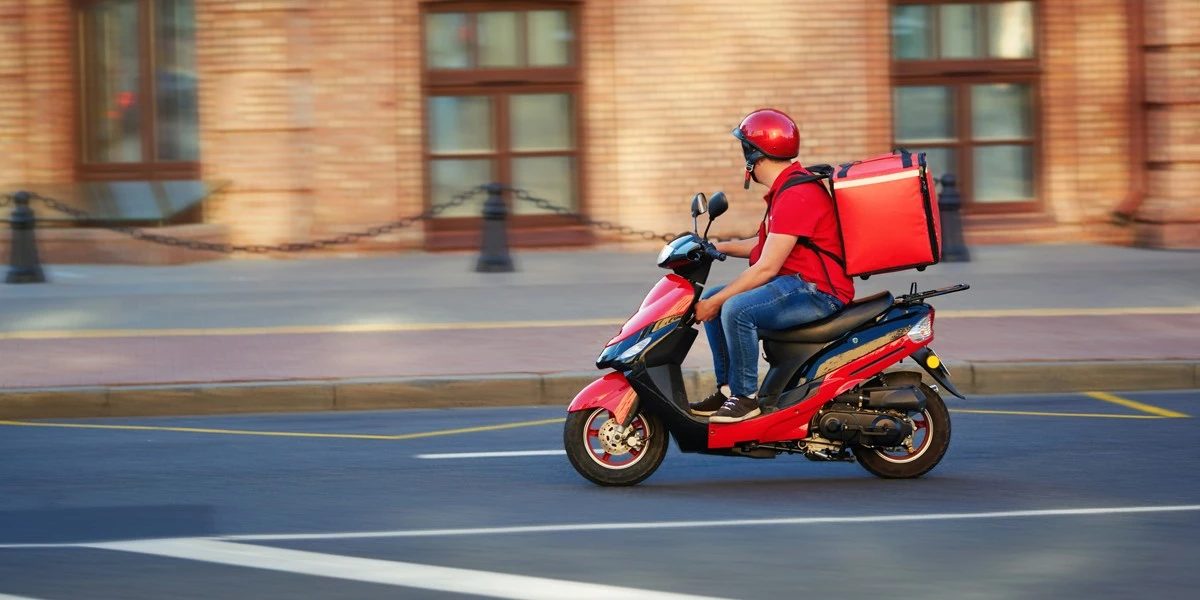 These stats are now forcing restaurant management teams to make tough decisions on expanding or starting their food delivery dispatch services. Should they outsource to a third-party delivery service, or is it better to operate their own?
Outsourcing Food Delivery Service
Restaurants should not be too quick to dismiss third-party delivery services as expensive since this business model has its serious perks, too. Research by Zion & Zion shows that 63 percent of young adults prefer third-party delivery apps. Outsourcing food delivery service is well suited for restaurants that just stared out or can't shell out funds needed to set up an in-house delivery service. Delivery apps also help restaurants expand their reach as the third-party delivery companies also promote them. Establishments can even create custom deals on platforms with a large user base, like lower delivery fees or free delivery on orders totaling over a certain amount.
The Four Titans of On-demand Food Logistics
How do third-party delivery companies such as Grubhub, Doordash, Ubereats, and Postmates work? These firms have developed their apps by aggregating a long list of restaurant options. Restaurants upload their menu and other useful information so consumers can bypass ordering via voice calls while improving accuracy. The restaurant receives these orders, and an expediter relays the order to the kitchen staff. Some restaurants hire dedicated staff to pack the food for pickup by third -party delivery drivers.
Restaurants that choose third-party delivery vendors will have to share a pre-agreed percentage of each order's revenue. For example, Ubereats charges around 30 percent of the orders routed through them. This percentage can be burdensome for restaurants with low-profit margins.
Plus, major third-party delivery vendors have been under scrutiny in recent months for their high fees that restaurants claimed to have caused their closure. These vendors are also facing mounting criticisms for their questionable business practices. For example, restaurants filed a class-action lawsuit against Grubhub for charging fees for customer interaction in the app, even if there were no orders placed.
Outsourcing Food Delivery Service
Research by Restaurant Business shows that the majority or 78 percent of orders for delivery are routed through the restaurant while only 22 percent are placed via third-party delivery companies. These figures are very encouraging for restaurateurs who are keen on operating their own delivery service.
There are several advantages to keeping the delivery in-house. For starters, having your own last mile delivery system allows for better control over the customer experience and helps ensure the restaurant's high-quality experience is maintained. Research by the Service Management Group revealed that 35 percent of home-diners faced problems with the outsourced delivery service, and restaurants bore these complaints' brunt.
However, setting up and operating in-house delivery services is no easy feat. Restaurateurs should analyze, plan, and budget carefully before choosing this option. Below are some factors to consider for restaurants interested in developing their delivery service rather than outsourcing.
Delivery Vehicles and Parking- Restaurants must purchase their delivery vehicles or couriers. This could be a problem if the restaurant doesn't have much parking space, given that the delivery fleets will have to compete with dine-in customers' vehicles for space.
Gas Money-Aside from the money for gas, restaurants also have to invest in a system to track fuel consumption for both owned vehicles or couriers.
Hiring and Supervising Staff- Restaurants servicing more than 30 orders per day will need to hire dedicated staff for order delivery. This employee is responsible for receiving orders, ensuring correct order preparations, and double-checking before delivery, among others.
Insurance-Drivers typically want to be insured. Will the restaurant pay for it, or will the drivers shoulder the insurance? One option is to sign-up for delivery insurance plans covering the vehicles and business owners' policies such as workers' compensation or liabilities if drivers are injured.
Space-Not all restaurants have vast spaces. For restaurants with a tight kitchen yet high delivery order volumes, space would be a problem.
Packaging-Ensuring a high quality of food means carefully packing the orders. Poorly packaged food orders can result in low customer satisfaction and ultimately damage the brand.
Food Storage and Transportation-Prepared food needs to be kept at specific temperatures before consumption. Restaurants will need to invest in coolers, insulated bags, and boxes to transport food orders that help prolonge the heat and freshness.
Dependable Delivery Tracking System-Restaurants need visibility over their delivery fleets. The restaurant team should know whether an order is already on its way or if the driver is en route to pick it up. Visibility on the drivers and vehicles is crucial in scheduling food deliveries. There could be long wait times, unruly delivery overhead, and even theft if drivers and vehicles are left untracked.
Establish a Payment Process-It's essential to know if the customer has already paid for their order. Should the restaurant take cash on delivery, or are upfront payments required before orders are prepared? What are the accepted payment methods? Will it be credit cards, smart payments, cash, or a combination of these three? How will the restaurant issue receipts? These are some of the questions to ask when planning for the payment process of food delivery orders.
Choosing a Communication Method-How will the restaurant team communicate with the delivery courier? Will the drivers be provided with their own phones, or will the restaurant reimburse their phone bills?
All these factors cost money, but it may provide higher profits in the long run since the restaurant will not fork over a percentage of its profits to outsourced food delivery platforms.
Choosing between using third-party delivery services or developing an in-house delivery team is not an easy decision to make as both business models have their advantages and disadvantages. Restaurateurs must weigh their options carefully, considering their cash flow, profit margins, and restaurant space, among others, before choosing one model over the other.