Amazon's Prime Air sails past a major FAA approval to begin operating its fleet of delivery drones. But they're not the only big player with plans to deliver packages through the sky.
What kind of impact will these drones mean to the logistics industry going forward?
Amazon just received federal approval to start operating its fleet of Prime Air delivery drones. With a record of firsts, Amazon was beaten to this milestone last April by Alphabet-owned Wing, a familiar competitor with plenty of technology chops and deep pockets of their own.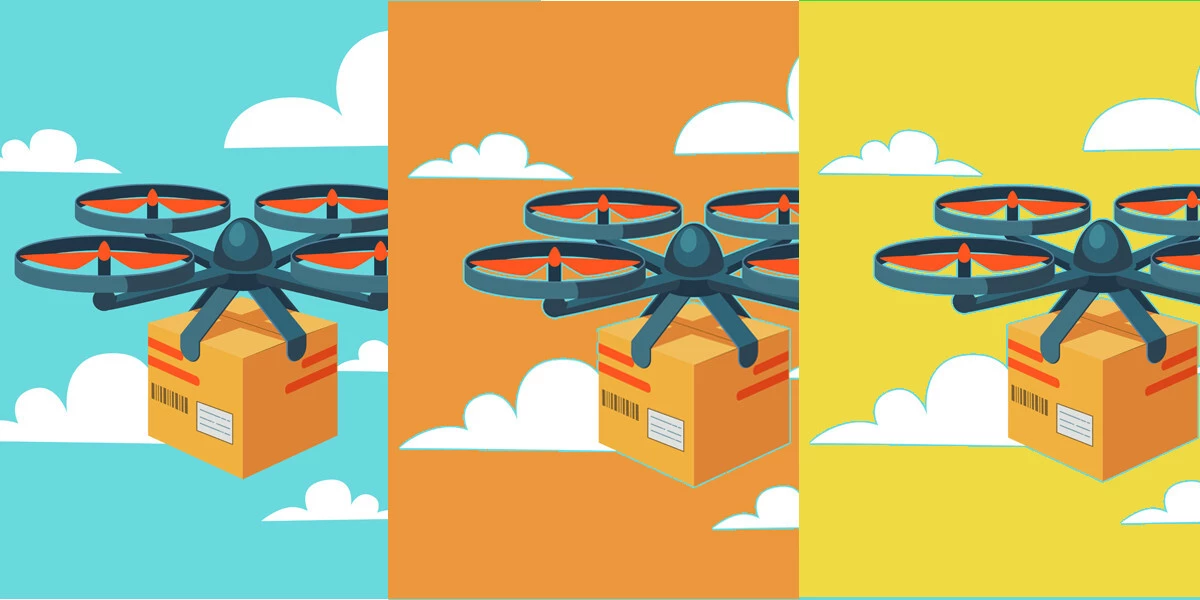 Each behemoth has it's differences when it comes to charting the unknown waters (or skies in this case) of drone delivery. Amazon's flyers look like they're built to touch down and release a yellow plastic receptacle containing the package. On the other side, Wing shows a tethered system in their promo video (link), which lowers down the goods with a pulley and line, automatically releasing the package when it touches down.
What does this approval mean?
To the average Jane or Joe living in a medium to big city, very little, at least for now. Amazon has been at this for a while and knows persistence pays off. Now amid an economy-slaying pandemic, the near two trillion-dollar company may be gearing up for a service offensive to solidify their position atop the bones of brick and mortars. They are beginning slow, safe, and data-driven. It's been seven years since publicly declaring their delivery drone initiative, aiming to drop off packages to customer's doorsteps in 30 minutes or less. Last August, the company submitted a petition for FAA approval of those plans. In its petition, Amazon said deliveries would occur in areas with low population density, and packages would weigh 5 pounds or less.
Translation; Amazon is going to test this out in small towns with low demand to start. There's no indication of when drone delivery will be available, but with Wing getting a head start, you can bet Amazon will be ramping up the throttle soon. Sometime next year, the internet will be ablaze with catchy headlines and perfect photos documenting this point in human achievement. I would love to talk to early customers who had discovered they're missing a horse bite or batteries for little Sally's robot pup, and whip out their phone, tap a few taps, and sway into their front yard, listening for a buzz as stare up into blue yonder.
Key Facts:
Amazon received FAA (U.S.) certification to use drones for package delivery.
Drone deliveries will first be available only in areas with low population density.
Packages will weigh 5 lbs. or less.
The last mile as the crow flies
The FAA certification comes under part 135 of FAA regulations, which gives Amazon the ability to carry property on small drones beyond the operator's visual line of sight. As mentioned, Wing was already certified earlier this year, but that hasn't stopped them from running test sites. Last September, they began drone deliveries in the cities of Canberra and Logan, Australia, and have tallied thousands of successful drops. Their record time for delivery is 2min and 47 seconds, which is impressive considering that's less time it takes most of us to get out of the house and into the car.
The approval will give Amazon broad privileges to safely and efficiently deliver packages to customers, the FAA said. That's not a lot to go on, but tracking Amazon's ambitions and their most potent asset—confidence in themselves—they will start slow and then populate from lesser to denser cities. By the time they arrive in big cities, they will have millions of drone data points to perfect the city system. Which leads us to predictions...
Prediction 1
Amazon and Wing will create standards of super-drone highways above cities with a million people or more. North, South, East & West will fly at different altitudes, etc. and so on, but they will write the traffic laws in their favor. Net positive as this will be needed - so they might enter into some coalition with UPS, and who knows, maybe even USPS.
Prediction 2
100 lb carrying drones. This will happen faster than we probably think. Being able to bring over five customer orders in one trip is a 4X return. Bigger drones are also more stable, and there's plenty of space in the sky.
Prediction 3
Amazon will ramp up drone production to flood the market with cheap, awe-inspiring flying delivery robots. The Seattle juggernaut will have factories of robots building more robots. Big drones, fast drones, little old ice coolers on wheels, all of them, the point is numbers. Fleets of their minions soaring to deliver, casting shadows on landlocked drivers and trucks below.
How will this affect the logistics industry going forward?
The impact for the next few years will be minimal to most of the logistics industry, but after safety and service concerns are satisfied, that's when the race will really begin. Here are some changes to expect:
Warehouses and distribution centers will be updated to accommodate delivery drones, e.g., a staging area, and intake.
Gig workers delivering small items and one-off food orders will be gradually replaced.
For heavier items, the current logistics landscape won't change much, that is, until the self-driving delivery trucks start rolling out.
Small businesses selling items under 5 lbs will move to centers with central drone deployment capabilities, e.g., think dark kitchens and specialty shops.
Yes, drones will eat up many of the delivery jobs, but the robotics and AI industries are presently working to cannibalize their human coworkers. And is that such a bad thing? Is there a more fulfilling role for gig workers to be employed than wandering around apartment complexes in confused anxiety? I believe so, and although one day we may curse the buzzing skies above, we will also be just as happy to pick up our pizza from the drone in the backyard, piping hot and ready to serve.