Planning routes manually is both ineffective and burdensome, especially if you're managing hundreds or thousands of clients and handling a large number of drivers and assets.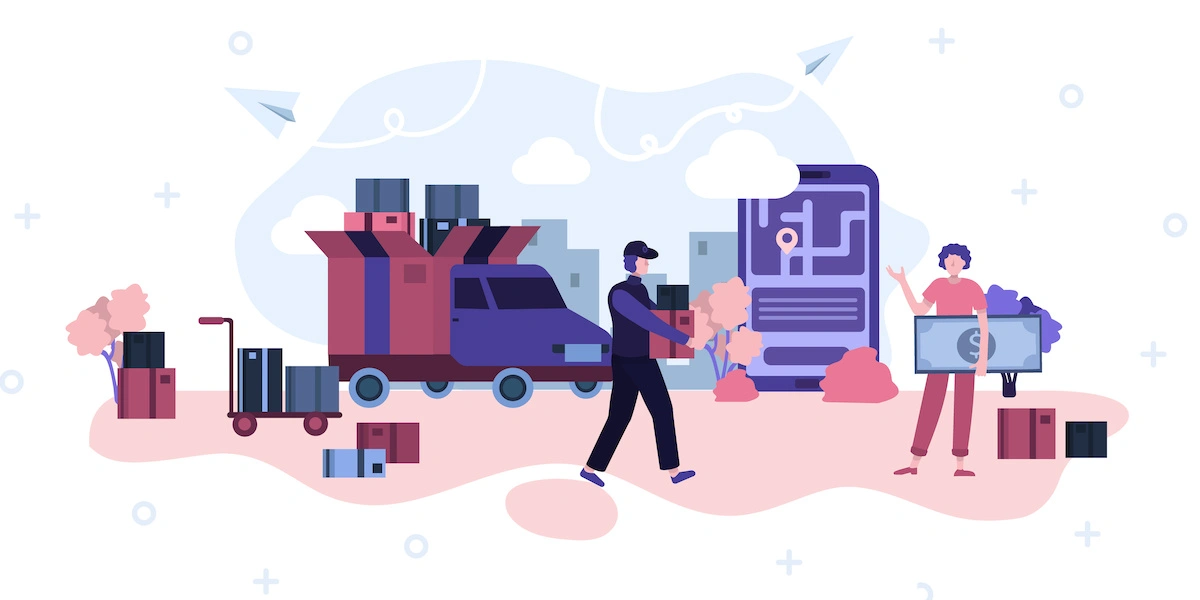 Across industries, fuel bills and drivers' salaries account for roughly more than 50% of the total operational cost per mile. This means that any minor improvements in route planning will not only enable you to deliver goods on time but will also positively impact your revenue.
Delivery route optimization software can help you save as much as 10% in mileage while letting you increase your order capacity significantly without acquiring more vehicles or hiring more drivers.
In this post, we will give you a run-down of how route optimization works and its many benefits to various industries.
The Basics of Route Optimization
Optimizing routes is about ensuring efficient and cost-effective routes for drivers to follow to each delivery point. Effective route optimization enables enterprises to make the most of their resources and ensure timely deliveries. In planning routes, you need to take into consideration various factors such as time window parameters, driver availability and schedules, service time estimates, and real-world traffic and weather conditions.
But legacy forms of route planning, regardless of your business or industry, can be both cumbersome and costly. This is why many enterprises are investing in the right tools so they can save money and time and achieve higher customer satisfaction.
Contrary to popular belief, delivery route optimization is not limited to finding the shortest distance between delivery drop-off points. It's about finding the most efficient and cost-effective routes while factoring in variables affecting deliveries to ensure that you're providing the best possible service to your customers.

How Different Industries Benefit from Delivery Route Optimization Software
Various companies rely on route optimization software to achieve cost savings and increase customer satisfaction.
For example, field service companies covering a large geographic area with multiple service teams on the road can use route optimization software to tackle the complexity of their delivery constraints. These firms cannot afford to depend on conventional routing processes, as they also have to deal with industry-specific needs like licensing requirements and state regulations, and adding manual route planning into the mix requires a ton of time and resources that the company may not have. This is why field service companies have traditionally leveraged numerous employees for planning a month's worth of field visits.
With route optimization software, these companies will need fewer person-hours to plan their field teams' visits, since their planners simply need to import their order lists, upload them into the software, and compare different potential route plans. You can then set the route plans as well as automatically assign the best-suited technicians or field service teams for each job according to various factors like skills required, state licensing and regulation, and territory capacity. Here, the software should also consider other factors such as traffic issues, customer-requested service windows, and lunch breaks.
Field service companies that invest in delivery route optimization software can reap serious benefits. These include improved scalability, since they can potentially bring in more clients, and cost savings, since they can cut down the number of miles driven and resources required for each route.
The right route optimization software can also be of great help to food distributors—especially since these firms often face industry-specific challenges such as food and product spoilage, special handling and refrigeration needs, and tight regulations due to food safety issues. Most food distributors are operating on low margins and stiff competition, so any tools that can decrease costs and improve customer service have the potential to be incredibly impactful.
Food and beverage firms benefit from the route planning software in multiple ways. First, the solution can calculate order durations by using historical data to automatically and accurately plan routes and schedules. This might involve finding ways to deliver more per day without risking late deliveries to top customers, or it might involve leverage what-if scenarios to look for more efficient ways to service clients.
In this way, those engaged in food distribution can enjoy increased profit per vehicle or driver and higher revenues. These companies can expand their business faster as the dispatch and planning teams can focus on other high-value tasks rather than spend long hours matching drivers to jobs manually tweaking routes. With the right delivery software (i.e. something that leverages AI and machine learning to improve ETA accuracy), food and beverage firms can also increase their on-time delivery rates significantly.
How Enterprises Can Benefit from Delivery Route Optimization Software
If you're still relying on manual scheduling and planning, then it's time to consider investing in route optimization solutions, as conventional ways are not scalable. Businesses that are still relying on manual planning are often failing to maximize the order capacity and revenue for their existing fleets.
High fuel bills and drivers' salaries that eat up a large chunk of the revenues. But manual planning and dispatching also limit your company's ability to make changes on the fly as needed. Plus, a lack of automation can end in missed and delayed deliveries, which results in unhappy customers.
That's why the potential benefits of the right route optimization software can be so numerous:
Cost reduction
Reducing operating costs requires ensuring that teams are working as efficiently as possible. The right solution enables companies to maximize their resources, allowing each driver to either complete more service calls or deliver more orders—all while driving fewer miles. This cuts down the fuel bill, which accounts for a big part of a fleet's operating costs.
Scalability
Many times, enterprises either acquire more vehicles and add more drivers or spend numerous hours organizing and reorganizing schedules, routes, and networks in a bid to scale their operations. With routing software, you can scale your business without necessarily having to add to their existing resources (e.g. by getting more out of your existing capacity). Likewise, they can reduce the planning time from hours to minutes, which enables you to run what-if scenarios much more quickly.
Improved driver retention
There is a shortage of commercial drivers, which is why the transportation industry has been listing driver retention as one of their main concerns year after year. In fact, in 2019, fewer than 2/3rds of commercial drivers kept their jobs for more than 90 days of work. Luckily, the right route planning software helps you spread the workload evenly across your whole fleet to ensure that drivers enjoy a work-life balance. By the same token, when you empower drivers with plans that are actually workable and efficient, they're likely to experience less frustration while completing more deliveries—which in turn might translate into higher pay for them.
Increased customer satisfaction
Consumers are now demanding more from businesses. They want to have the ability to track their orders in real-time, receive reliable expected times of arrival (ETAs), and get updates via SMS or email ahead of deliveries. Delivery route optimization solutions can help businesses meet the modern customer's expectations by offering live tracking options, accurate ETAs, and real-time updates to customers to avoid missed or delayed deliveries and to increase customer satisfaction.
If you're still using conventional ways to dispatch and route drivers and service technicians, then it's time to invest in delivery route optimization software. The right delivery routing tool can help you maximize resources, save time and money, retain drivers, increase revenue, and ultimately improve your bottom line.