Modern customers have different wants and demands. Aside from wanting to get their orders right and on time, consumers these days also demand visibility. This means having real-time information on the exact location and status of their orders.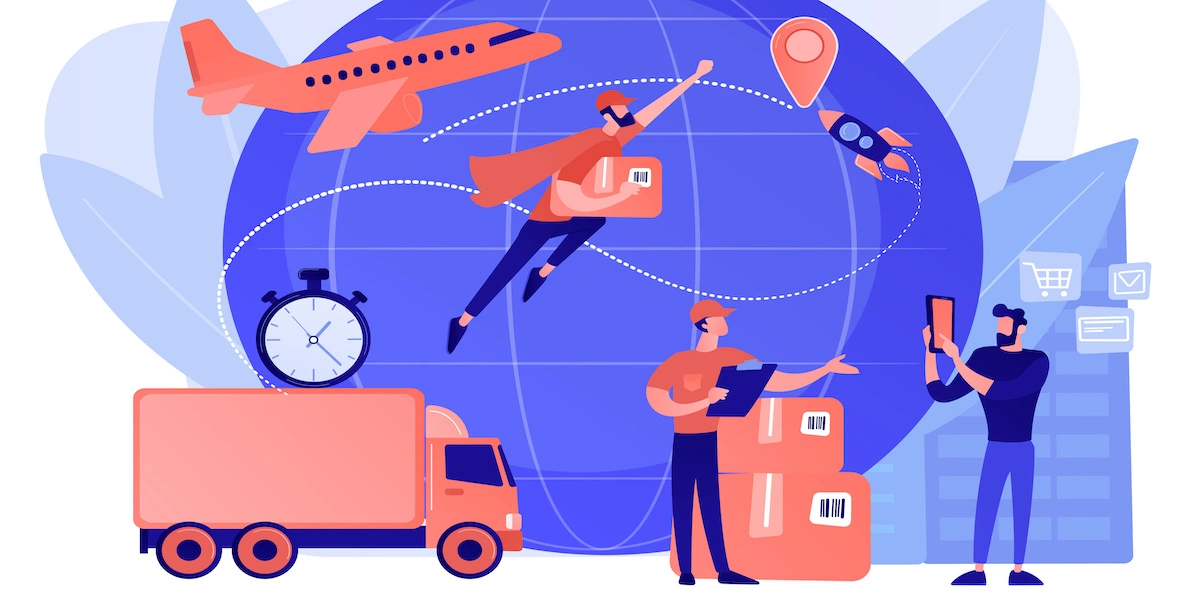 Indeed, providing real-time delivery updates, as well as messages notifying customers that their orders are already on their way, is necessary to win customer loyalty. Back in the day, fleet managers had to call drivers one by one to know their locations, while customers had to call the customer service team to learn about order statuses.
These manual processes of locating drivers and informing customers are time-consuming and expensive. Fortunately, delivery driver tracking software can provide both shippers and customers real time visibility on deliveries.
Understanding Real Time Visibility
In a nutshell, real time visibility is live information allowing fleet managers and dispatchers to monitor their routes, order statuses, and driver locations at any given time. It enables fleet managers to know what is happening in real time under real-world conditions. Complete real-time visibility allows managers and dispatchers to assess emerging problems and address them proactively.
Real-time visibility across the supply chain and logistics are no longer optional these days. In fact, they're a necessity. Luckily, tracking the movement of goods from manufacturers, suppliers, hubs, and warehouses to the end consumer also brings potential cost-savings and other benefits to modern businesses.

Complete and up-to-date visibility across the supply chain is often made possible by GPS tracking, but that in and of itself isn't enough. Businesses need to be seamlessly capturing live status updates from out in the field and processing that information quickly enough for it to be useful. This requires software that empowers enterprises to schedule, plan, and monitor their logistics process across all touchpoints.
This offers supply chain managers access to traceable, real-time data including driver locations, order statuses, customer requests, delivery exceptions, and so much more. Shipment visibility helps companies enhance their productivity, gain a competitive advantage, improve transparency, and ultimately increase customer satisfaction. It's also useful in cutting down your fleet's operating costs.
What Can Delivery Driver Tracking Software Solve?
The ability to monitor fleets in real-time has also transformed the way businesses execute their last mile logistics operations. Those that fail to make use of delivery driver tracking software and its real-time tracking features might find themselves unable to go head-to-head with their competitors, to say nothing of facing a number of operational challenges:
Delayed deliveries
When it comes to deliveries, the most important thing is to keep your latest promise—if you update customers on a potential delay right at the beginning of the day, they'll have time to adjust (or cancel) and you'll usually still get credit for an on-time delivery. But a lack of accurate information regarding vehicle location, expected time of arrival (ETA), and other field activities is a sure formula for delayed deliveries. This can result in huge losses and brand damage. After all, customers are quick to give up on brands that offered them a poor delivery service, and more and more people will share their experiences among their circles or leave a bad review online.
Poor KPI benchmarking
Real-time fleet tracking is useful in preparing route plans and driver assignments as well as measuring the performance of your fleet and drivers. Naturally, ensuring efficient delivery operations requires setting and monitoring key performance indicators (KPIs.)
A lack of visibility and control often leads to inaccuracies and discrepancies in the planning and monitoring of the delivery process, which ultimately results in less-than-clear insights into what actually happened on the day of delivery. Plus, managing third-party logistics (3PL) providers and partners becomes more difficult without real-time monitoring capabilities. When you have little to no insights on how 3PL drivers are performing—how frequently they cause delays, adherence to service level agreements, on-time performance, etc.—you simply can't optimize your last mile logistics.
Customer churn
Customer churn is an essential metric for every business, with the potential to have a huge impact on your bottom line. Unfortunately, the absence of real-time tracking of deliveries can result in a higher customer churn rate. As mentioned above, consumers these days want transparency in their orders and the ability to track their packages on their own. Aside from getting their orders on the promised delivery windows, shoppers nowadays also demand accurate, real-time information regarding their orders. To put it another way, your ability to provide visibility to customers goes a long way towards impacting their overall delivery experience.
Shoppers in 2021 are more discerning than ever. They demand better and faster delivery experiences from brands, leading to a more competitive marketplace across the board. Luckily, if you can build out last mile visibility internally, you can meet consumers' demand for transparent delivery services.
Higher operating costs
Monitoring potential issues in the delivery process is key when it comes to keeping costs down. Luckily, real time visibility in the last mile enables you to do just that. How? By giving you a sense of what's going well and what isn't—all from a single screen.
Monitoring fleets in real-time is the only way managers can keep track of all the developments happening in delivery operations as they happen. It helps fleet managers spot potential late deliveries, for instance, and proactively reach out to customers to try and reschedule them. Generally speaking, this kind of proactive last mile management helps you decrease your number of failed deliveries each day.
Cutting down costs is obviously a priority for all businesses—but the last mile delivery visibility provided by delivery driver tracking software is crucial in achieving cost-effectiveness. Reliable insights on routes and delivery issues at various points allow businesses to handle problems and risks more effectively. Real-time insights reduce not-at-homes and failed deliveries. Eliminating these inefficiencies help in reducing overhead costs.
Businesses are facing monumental challenges these days, especially given the more competitive marketplace and increasing customer demands. A delivery management solution offering real time visibility on fleets is a must-have to ensure compliance with cut down costs, gain loyal customers, and increase profitability.