DispatchTrack has worked for years to create the most powerful, cutting-edge, and comprehensive last mile logistics software. We pride ourselves on optimizing the last mile from end to end and powering elevated customer delivery experiences for our many customers—which is why we're so thrilled to announce that we were named finalists for this year's Accenture Freight & Logistics Innovator Award for North America.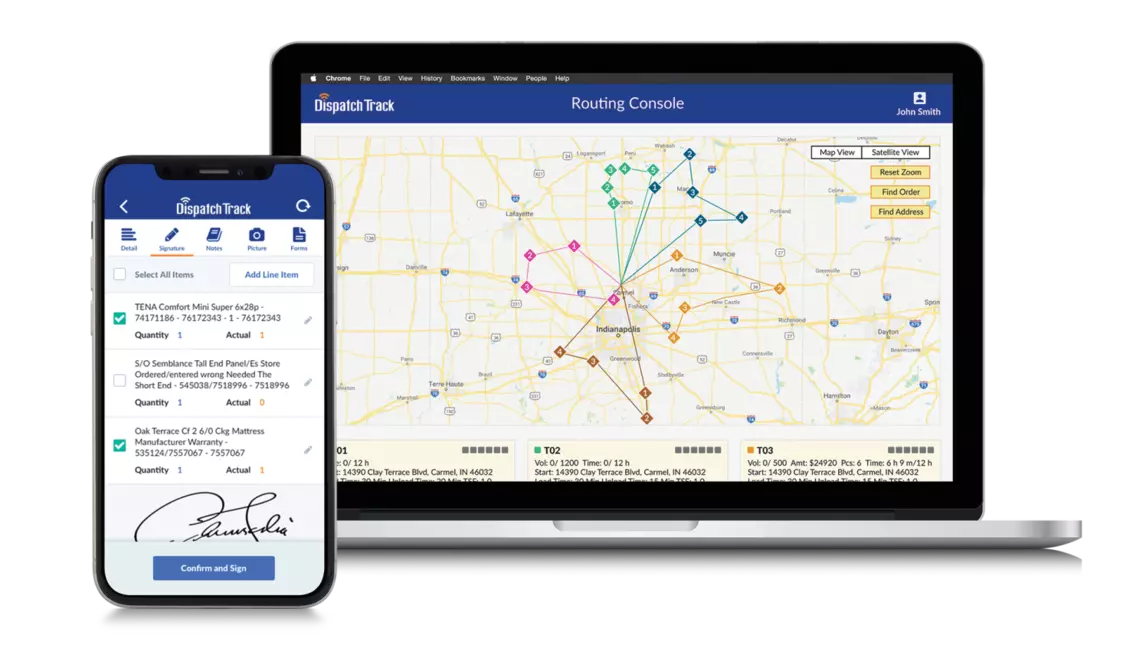 Back in April, we were hand picked among logistics technology innovators by Accenture to apply for the award. The company sought out applicants whose technology they thought had the power to make a real, lasting impact on the global supply chain, and whose platforms showed real innovations in the world of logistics. Last month, Accenture announced that DispatchTrack was among just six award finalists—solidifying our status as a logistics technology innovator.
DispatchTrack's Last Mile Logistics Solution
In the initial rounds of the application process, we sought to highlight all of the ways in which our functionality is unique, robust, and transformative for our many users. But what exactly is so special about DispatchTrack's software? What makes it worthy of inclusion on a list of logistics technology innovators? We're glad you asked:
Our cloud-based, AI-powered

route optimization engine

offers precise, accurate, and highly-scalable route optimization. Our system learns how different regions, drivers, loads, trucks, and other factors impact ETAs, and generates 98% accurate ETAs accordingly.
Our automated

customer communication

features give our user the ability to empower their customers and keep them in the loop throughout the day of delivery. These automated communications—including self-scheduling, route-started notifications, and live delivery tracking portals—are the bedrock of elevated delivery experiences that improve customer satisfaction

and

decrease customer-not-at-homes and other costly disruptions.
Our

driver mobile app

, which enables dispatchers to send turn-by-turn directions to drivers and communicate with them in real time. The app also enables drivers to capture electronic proof of delivery in the form of pictures, notes, and videos—even in areas with no cell service!
The

real-time visibility dashboard

shows you your entire operation at a glance. When you can see the status of every truck and order at a glance from a single screen, you can manage your deliveries much more proactively.
All the reporting and KPIs that users need to understand their operations, as well as robust integration capabilities, billing and settlement automation, and much more.
All of this adds up to a solution that's truly comprehensive—meaning that users aren't constantly switching between different applications to get the information they need. Because our system touches every component of the last mile, we're able to create a centralized, live data hub that's invaluable for managing delivery operations in real time.

DispatchTrack's Path to Growth
In addition to conveying the uniquely comprehensive nature of our platform, we also sought to show off our potential for further growth and innovation in the larger logistics market. Luckily, this wasn't hard to accomplish: DispatchTrack is already in use at 70% of the top furniture retailers in the U.S., and we're responsible for more than 30% of all appliance deliveries. But there are over a million last mile delivery trucks and vans just in the U.S. (with millions more around the globe), meaning that there's plenty of room for us to grow.
Of course, DispatchTrack already has 10 years of experience in the logistics space—which means we have 10 years of experience listening to and working with 3PLs, furniture retailers, building supply companies, and many others. What we've learned in that time is that successful last mile logistics operations require not just a powerful route optimizer, but a connected, end-to-end approach that puts customer delivery experience front and center. In the coming years, we'll aim to provide just that to new industries and businesses around the world.
About the Accenture Freight & Logistics Innovator Award for North America
The 2021 Accenture Freight & Logistics Innovator Award for North America took place virtually on 5/13, with DispatchTrack competing against five other companies in the logistics space.
DispatchTrack CEO and Founder Satish Natarajan had this to say about DispatchTrack's selection as a finalist: "We're extremely excited about this opportunity, and we'd like to thank Accenture for naming us as a finalist. When we first came on the last mile delivery scene ten years ago, there was an obvious, industry-wide need for the kind of visibility and optimization capabilities that DispatchTrack provides. Since then, last mile logistics has changed a lot—but the basic need for a comprehensive, easy-to-use, innovative optimization platform has stayed the same. We hope that as finalists for this award we can bring greater attention to that need while showing off everything that makes DispatchTrack unique in the last mile market."
As part of the competition, DispatchTrack created a video presentation outlining the software's features and functionality, its growth potential, and its competitive differentiators. We sought to highlight a several key factors that separate us from the competition, including:
Our easy-to-integrate, highly scalable cloud architecture
Our flexible and configurable deployment options
Our wide breadth of use cases
Our long history of successful solution deployments (over 1,000 and counting) and our net promoter score over 70.
Interested in learning more about our innovative last mile logistics platform? You can find DispatchTrack's video presentation here: