​
Route optimization aims at minimizing cost and maximizing customer service. Each organization has different priorities and parameters for optimized routes. To save on fuel cost, several times, delivery organizations ask for shortest-distance routes. Sometimes least time is more important than least distance, when labor cost minimization is more important than fuel.

In some cases, it's most cost saving to evenly distribute stops among a given number of trucks. This makes sense when the added labor cost is more than the added cost of an extra truck on the road.
Sometimes customers have commitments on time windows for specific clients. In some cases, for an extra charge a customer is able to ask for a commitment on a time window. So route optimization needs to be done while "pinning" these time windows and create shortest possible distance for the remainder of the stops.
DispatchTrack's self-learning route optimization algorithm allows users to control their parameters, and in an easy-to-use map-based graphical user interface, presents the route optimizer such that with the click of one button, thousands of stops are scheduled to hundreds of trucks in just minutes.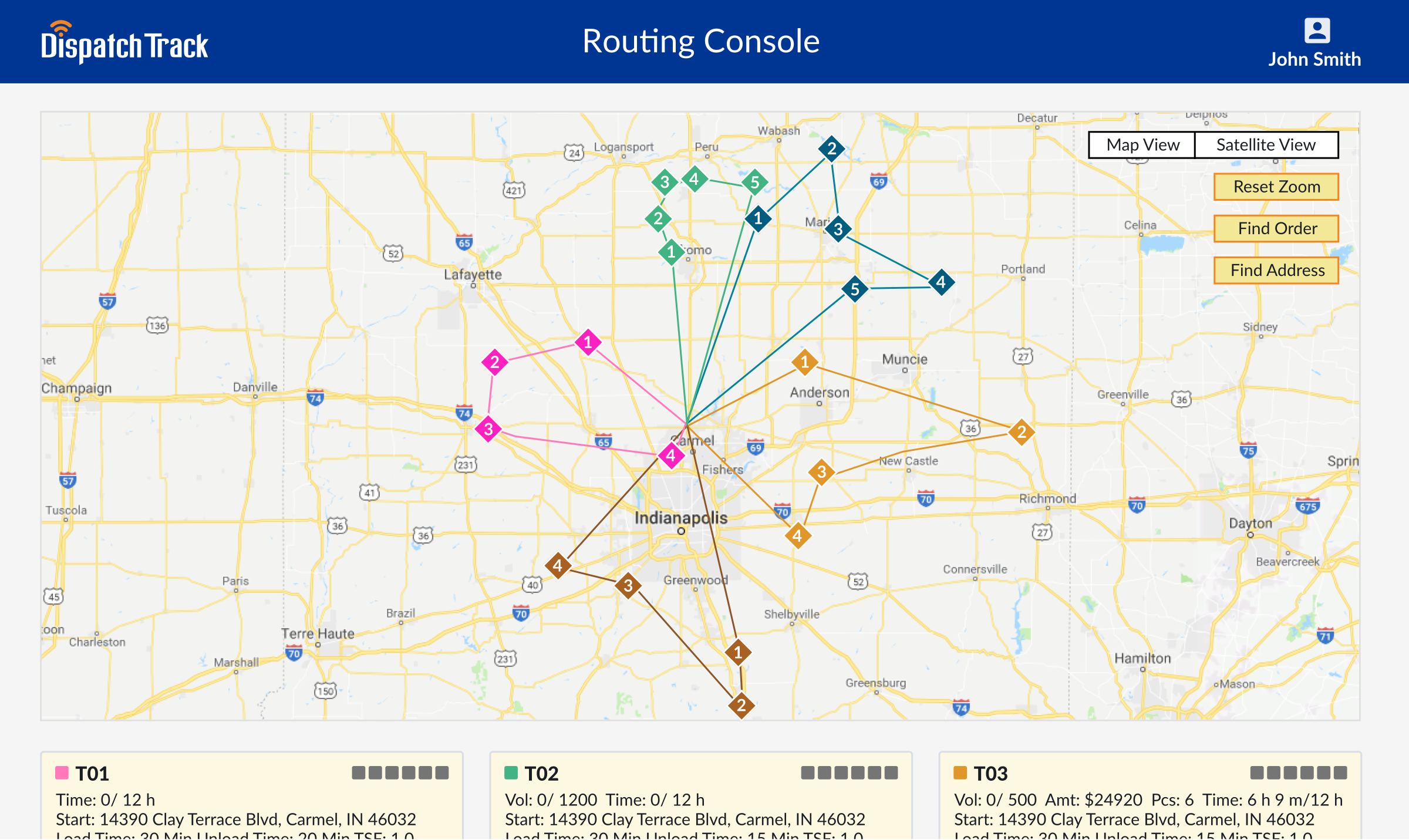 ​
Legacy routing systems are designed to handle a daily set of orders and not Strategic Route Planning. They're not designed to contemplate the bigger picture of what day(s) you should be selling to, servicing, and delivering to what customers, at what times and at what cycle frequencies. Strategic Route Planning provides the largest "bang for the buck" in route optimization as it tackles your entire go-to-market strategy for your entire delivery cycle.
DispatchTrack delivers where legacy routing systems struggle with planning or force you to create restrictive territories. We also help you design and test templates for upcoming holiday weeks and seasonal fluctuations in your order volume. All of this ensures that you are going to market with the best plan possible.
​
Legacy routing systems may have multiple daily routing strategies like Standard Routing, Dynamic Routing, Zone Routing and even Route Fragments. The router usually selects a strategy and spends hours editing to reflect multiple strategies at the same time. In the end, your legacy routing software becomes nothing more than a calculator for your router to make manual (and expensive) business decisions.
DispatchTrack is the first last-mile cloud solution to use daily (calendar-based) Route Templates that combines Dynamic Routing, Standard Routing, Route Fragments, Set Appointments and Preferred ID Routing into one cohesive routing session. This means that your customers are optimized based on rules, constraints and a combinations of these strategies to provide the very best answer, the first time.
DispatchTrack Routing also allows you to classify customers into Tier 1, Tier 2 and Tier 3 levels. You can now make specific time window commitments so that a key customer can be serviced at a consistent and profitable time.
DispatchTrack allows you to plan for scenarios way ahead of time and deploy those scenarios based on calendar days to handle special events and holidays.
Route Advisor TM
Wouldn't it be nice if your software could coach you through each manual move you make? Now you can do this with DispatchTrack's Route AdvisorTM
Every move, including late orders, in the route editor is met with a thumbs-up or thumbs-down based on improving costs, meeting delivery time window constraints and maintaining arrival consistency.
Continuous Route Optimization
Why wait until 5:00 pm to start working on tomorrow's routes? With DispatchTrack's continuous optimization API, you can route a truck right after an order is placed. This allows for smarter capacity planning and seamless transition from taking orders to picking and loading your trucks.

— Jay Steinback
Executive Vice President, Rothman Furniture
​