Stay in Good Standing with Regulators and Inspectors
In food distribution, aside from challenges like driving down costs and providing reliable customer service, you also need to follow the strict compliance and regulations of your industry. Some are required regulations, like the DOT ELD compliance. Others like monitoring truck temperatures, while not a compliance requirement, can give you a competitive edge.
Reasons to Equip Your Fleet with the Latest Monitoring Technology:
Easily Track and Update HOS with ELD Equipment
We've Found & Partnered with the Leading GPS Hardware Provider
Monitor up to 4 Temperature Zones with Valor TempTrac (add-on)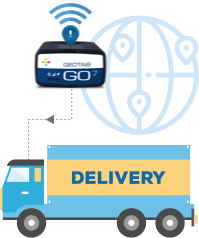 Assuring and using tools to ensure food safety is a massive benefit to food distributors. To provide the best hardware, DispatchTrack has partnered with Geotab and Valor to provide you with state-of-the-art monitoring and compliance technologies. You can now monitor your driver's behavior behind the wheel, document HOS for ELD requirements, and monitor truck box temperatures all in one solution.