Customer Communication
Predictability and transparency create trust. In wholesale distribution, this equates to a competitive advantage. In order for the client to plan out their day, they need definitive information on when to expect their deliveries. As you plan out your routes, it's best to communicate and probably even get the customer's confirmation, just to ensure the time window you selected for them will indeed work.
Of course, we all know that when a phone call is made, the person on the other end is mostly not readily available to pick up the call. They may be at work, or at an appointment or simply away from their phone. When they call back, the customer service person may be on a call. Because of this, on average it takes 2.5 phone calls to reach a customer.
Customers expect instant communication about their deliveries. Given that there are so many modes of communication, different customers have different preferences in the way they would like to be communicated about their orders.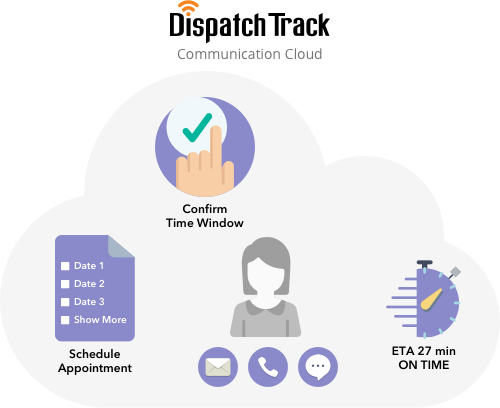 All of this communication takes a lot of manpower and when a business is trying to protect its margins, it needs more staff to stay competitive and provide proactive communication to the customer, which can get costly.
DispatchTrack sends out automated communication in multiple channels to the customers and collects their confirmations when needed. Using our automated notification system, businesses have reported having seen cost savings of up to 75%. Additionally, the job is done within just a few minutes, rather than spend multiple days trying to reach customers and confirm their schedules.


Route optimization to minimize Fuel and Labor Costs
As a wholesale distributor, you always need to worry about delivery costs. Given the recurring nature of the deliveries, sm …
Read More


Accurate ETA's and predictability.
The customer is planning their business based on receiving their merchandise at a certain time. A chef that is expecting a lar …
Read More


Real-time Visibility and Tracking.
In this day and age of instant communication, when a customer wants to know the status of their order, they want …
Read More


Protect From False Liabilities with Proof of Delivery..
Wholesale distribution involves orders with large line items, and they are perishable. Customers do reject items that they think…
Read More