Protect From False Liabilities with Proof of Delivery
Healthcare supply chains involve orders with large line items, and they are delicate. Customers do reject items that they think don't fit their need. Having said that, sometimes a customer contacts you to say that they did not receive their merchandise, or you notice that what you expect as returned merchandise is different than what is returned in the truck. This is when it's best to have proof of delivery signatures and detailed documentation. It should be in the form of notes, data, pictures and videos on what was delivered, what was rejected, and the reasons why. This can protect your business from false liabilities.
In a healthcare industry, equipments and supplies are very expensive, delicate and the transportation and delivery have to be done with utmost care. There are warranties to be taken care and sometimes the equipment is sent on a trial which may necessitate a return as well. This is a common scenario faced by most delivery organizations with consumers notifying that the shipment was not received in the intended condition. Some of your customers may want Asset relocation which can become doubly expensive and sensitive with costly equipments. They may demand condition reports or proof of pick-up of a critical item that could impact the life saving process! Some want to see photos of the supplies/goods so that they can rest assured that their shipment is in safe hands. Sometimes you need to have the transport data to share with your customers. All these are possible with our solution!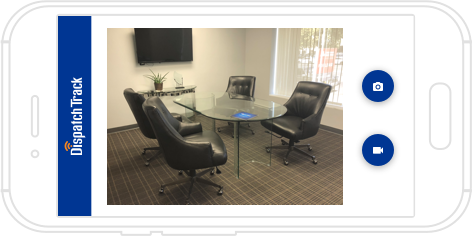 With all the fuel saving, cost reduction, planning the fastest, shortest routes and delivering in specific time windows on your mind, I am sure you would not want to focus on false liabilities! You need to able to differentiate genuine claims from false ones since you definitely want to resolve the genuine ones to retain your customers. But, how do you handle a claim request from customer? You need to have solid proof of the actual scenario without which you would be groping in the dark. Dispatchers and the delivery organization is always hard pressed for time and you need to make sure they work on the productive tasks that enhance customer success rather than false liabilities that suck your time, energy and money.
DispatchTrack solution is equipped to give you the needed proof of delivery and documents in an electronic format without delays. The driver can collect proof of delivery by taking digital signature, give receipts of cash collected and all this can be seen in your dashboard too! Non availability of customers or incorrect addresses, condition of goods delivered/received can all be photographed and uploaded in real time by the driver, giving you the much needed evidence to support your delivery organization while quickly addressing real claims.
DispatchTrack's software gives visibility in the entire last mile logistics providing transparency in transactions. The solution captures real time data on the driver's HOS, speeding, fuel usage, tracks the exact position at any given time. All these provide you with the ammunition needed to address a claim, assess the genuineness and enabling you to protect your business from false liabilities!

— Lee Goodman
CEO, Jeromes

Route optimization to minimize Fuel and Labor Costs.
As a medical supplier, you always need to worry about delivery costs. Given the recurring nature of the deliveries and lo…
Read More


Accurate ETA's and predictability.
The customer is planning their business based on receiving their merchandise at a certain time. How many times you came …
Read More


Real-time Visibility and Tracking.
In this day and age of instant communication, when a customer wants to know the status of their order, they want …
Read More


Customer Communication.
Customers want to know and need to know about the order. You too need inputs and confirmation from customer before plan…
Read More