Proof of Delivery and Notes Made Simple
When it comes to delivering building supplies, you need industrial-strength software in your driver's hand. The DispatchTrack mobile app is up to the task, as a powerful extension of our core system, it gives drivers an easy way to document job site conditions and all the details of delivery.
Mobile App Tools and Features for Your Driver:
Paperless Mobile Dispatch
Ability to Add Notes Directly to Orders
Automatic Order Status Updates with Home Office
A Simple way to Link Pictures & Signature to Each Delivery
With paperless dispatch, your office can deliver the day's orders directly to all your driver's devices in seconds. This includes notes, routes and the order in which deliveries will be made. Customer information is all there too and custom forms can be added as needed to fit the specific demands of your supply chain business.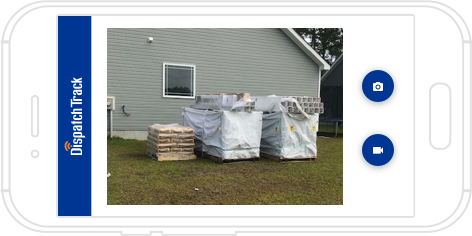 Proof of Delivery: Pictures, Notes & Signature
The app lets your driver take as many pictures as needed to verify deliveries, installations, or record previously damaged property. They can easily add notes for complicated situations and you can make signatures mandatory to document the chain of custody properly.
At the job site, there could be pre-existing damage to a driveway or a doorway where your crew is delivering supplies. Without collecting proof, the property damage could be blamed on your drivers, leading to a hit on your reputation and false liabilities in the thousands.
Remove any guesswork concerning deliveries by collecting proof at every step — all of which is automatically Geo and time-stamped for future reference.