Deliver Accurate ETAs and Predictability to Customers
Construction schedules are always tight, and surprises are unwelcome, especially when it comes to supply deliveries. The customer is planning their business based on receiving the product at a particular time. It is best to tell them what time the delivery will occur much in advance, as soon as routes are finalized.
Accurate ETAs Are Everything
Today's building customers are not willing to be directed by the delivery organizations anymore. They are demanding more frequent and accurate information updates. If there are delays due to unexpected situations, you need to let your customer know immediately, so that they can make the necessary adjustments. Even if it isn't the news they wanted, customers always respect clear, upfront communication.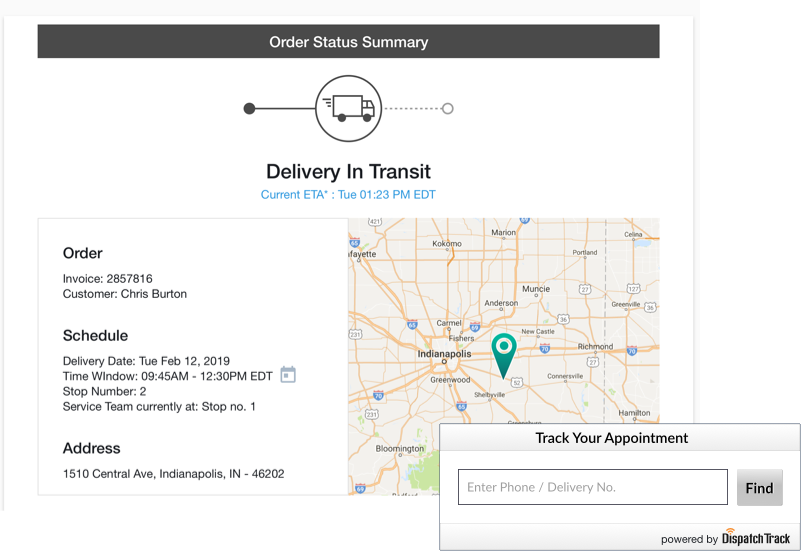 Customers have their own tight schedules and busy lives, which cannot be disrupted by a delivery delay. If there is a change, they want to know well ahead of the scheduled ETA so that they can regroup and replan.
How do you manage all the possible setbacks that can happen on a long route with multiple stops? You need a way to have real-time estimates and a predictable way to know customer ETAs every time. Just knowing where the shipment is at the moment is no longer sufficient, customers want to know when they will receive it too.
DispatchTrack has the built-in ability to predict the ETA accurately and deliver that information directly to customers. The solution also helps to capture the position of the vehicle, give inputs on the weather, safety, speed, etc. and factors in various circumstances while computing the ETA.
A Driver can update the status of delivery while starting for the next delivery point, and the system recalculates, giving the new ETA information. This helps the customer in knowing upfront if the delivery is early, on time or late. While customers do want to know the ETA, they are also averse to a flood of messages and calls. Therefore, your communication should take the preferences of each customer into account when informing them about the ETA. The system helps here, too, by keeping track of what channels they favor for communication.
The bottom line is, the more lead time you can give customers with an accurate ETA, the more comfortable they feel about doing business with your organization because they know you value their success.