Keep Tabs on Driver Performance and Behavior
The success of any delivery organization heavily depends on the quality of the driver's work. As the last point of contact with building customers, drivers are representing your organization, and how they perform leaves a lasting impression.
Using tools to ensure safe delivery is a massive benefit to building suppliers. For the best hardware, DispatchTrack has partnered with Geotab to provide you with state-of-the-art monitoring and compliance technologies that integrate seamlessly with the entire system.
Reasons to Equip Your Fleet with the Latest Monitoring Technology:
Easily Track and Update HOS with ELD Equipment
We've Researched & Partnered with a Leading GPS Hardware maker
Multiple Pre-Set Reports to Analyze Drivers from Many Angles



With modern telematics, you can now monitor your driver's behavior behind the wheel, document HOS for ELD requirements, and generate reports for individual drivers. Once these sensors are in place, it's easy to measure and manage driver attitudes and behavior on the road. Find out who your good drivers are, to be able to acknowledge them. On the other hand, if there are habits of a driver that need to be corrected, you now have a way of capturing it, measuring it, and improving it.
In building supply deliveries, a driver is not only responsible for driving the truck and handling the expensive merchandise, but they are also responsible for customer satisfaction. In order to run a well-oiled service organization, you need proper metrics to measure every aspect of your driver's work, from their driving behavior and merchandise handling to their customer management.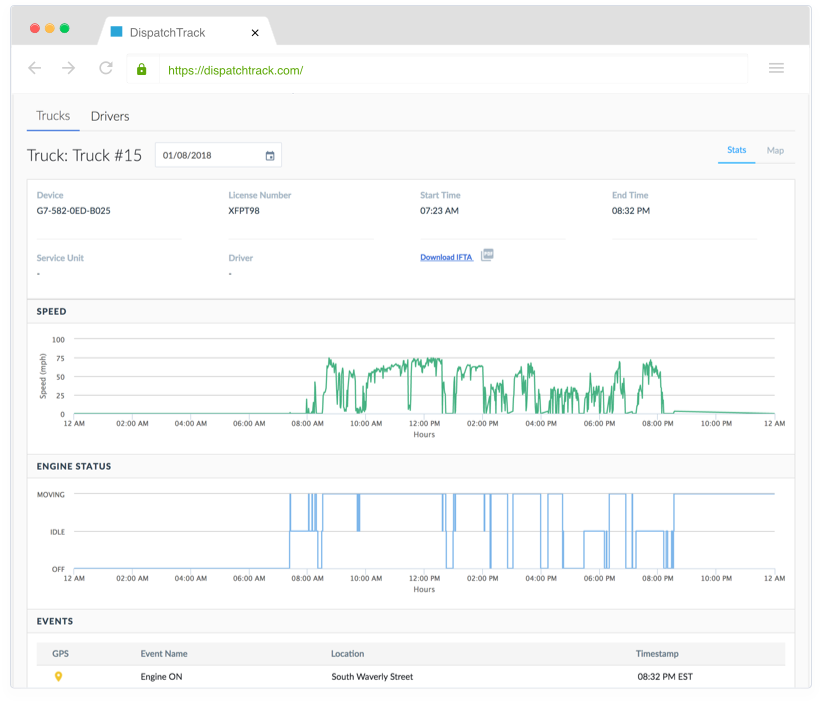 In addition to impacting the customer experience is the regulatory compliance of the drivers in terms of Hours of Service mandated by FMCSA (Federal Motor Carrier Safety Administration). Your drivers are responsible for a host of activities in the value chain. They are accountable for safe driving, fuel efficiency, vehicle upkeep, collecting proof of delivery, reporting on discrepancies, if any, in a timely way, and documenting feedback from customers. That's a lot to manage, luckily DispatchTrack's robust mobile app makes documenting and recording all these variables simple with a little driver training.
The effectiveness of your organization depends on the performance of the driver. While there are a lot of activities to be handled, driving is the prime focus, and you need to find a way to ensure all other activities are manageable without too much driver interaction. This is possible only with an integrated, connected system that automates activities, and provides needed guidance in the form of reports to make management easier.
DispatchTrack takes care of Driver Management, and heps manage all your red flags while you accelerate customer success in the field.