Connect with Customers Simply via Email, Text, or Call
Job sites are already chaos and a damaged or delayed delivery can throw a monkey wrench into the operation, causing setbacks and leaving skilled labor without a job to do. In the Building Supplies business, proven predictability and transparency with customers gives you a competitive advantage. And it all stems from clear and well-timed communication.
DispatchTrack has a toolbox full of ways to keep your building customers in-touch and informed:
One Tap Customer Updates via Text, or Call for Drivers
An Automated 24 HR Pre-Delivery Reminder Call
Multiple Ways to Connect with Customers
Tracking Widget to let Customers Check Their Order's Progress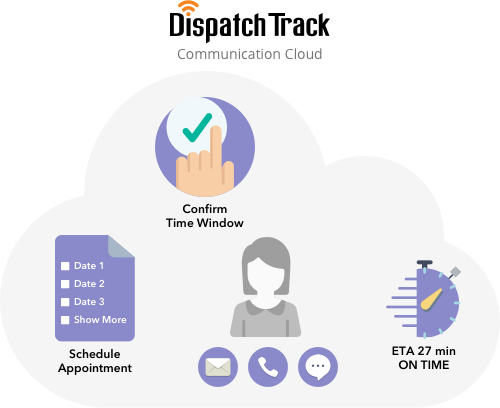 We've made communicating with customers a fundamental part of our software.
Customers expect instant communication about their deliveries. Given all the modes of communication available, each buyer has a preference for how they would like to be contacted. Our system simplifies this often messy and time-eating process.
For the client to have a good experience, every time, they need definitive proof of when to expect their delivery. That's what our Tracking Widget does (see the ETA and Predictability section); it's sent through a text or email that links right to your website. Once they enter their number, they can see the truck icon on a map with a live ETA time that updates before their eyes.
If you think about how valuable client relationships are to your business, it means everything to the health of your accounts and your reputation to be on the same page.