Industrial operations are evolving around the world, thanks to some of the most rapid technology-to-market transitions anyone has seen. Many businesses are shifting their allegiance to automation through the adoption of autonomous technologies in their race against competitors. Technologies like drones, initially used for military activities, are now being used by different industries, including the logistics sector.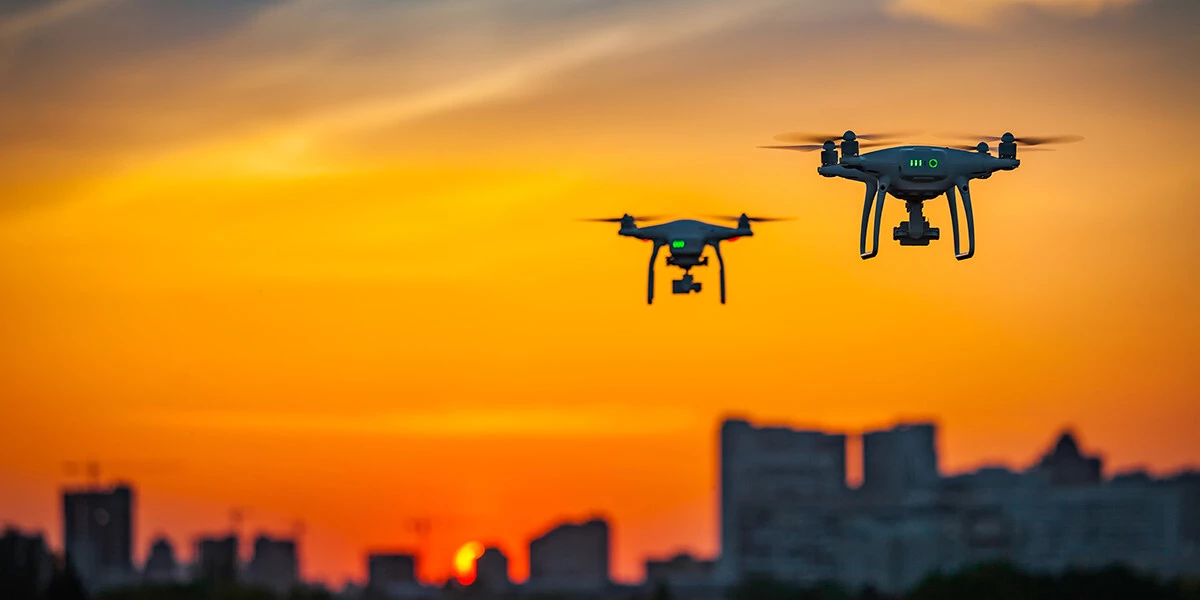 The drone market is expected to make waves in the operations of supply chains as more enterprises prioritize efficiency in each step of the supply chain process. Soon, drone-based deliveries will be a staple as drone technology for transportation and logistics are expected to reach the $20 billion mark within ten years.
Just what exactly are the uses of drones for retailers and service-oriented businesses? How will drones impact the supply chain? These are key questions many are asking. Below are the basics of this technology and how these small, able flying machines will change product and service deliveries of businesses forever.
How Are Drones Used In Logistics?
There are different ways drones can be used for logistics, operations, and distribution.
They can be leveraged for transportation or delivery of orders to customers. This is especially true for last-mile deliveries in urban areas with heavy traffic congestion. Though it should be noted, the FAA in the U.S. has yet to authorize any large scale operations as of April 2020.
Deliveries of medicines and relief packs to remote and rural areas are already being tested.
Remotely-operated drones can be used in inspecting infrastructure after a disaster for risk assessment purposes.
Security surveillance of large areas for logistics such as warehouses and factories
Maintenance assessment of infrastructure integrity of yards, terminals, and warehouse roofs
Scanning of pallets inside distribution centers, allowing the operations team to view inventory stored on the premises as well as searching for misplaced goods in difficult-to-reach spaces
Collection of video and images during inventory audits
The growing popularity of eCommerce is making a strong case for the use of drone technology in transportation and distribution of goods. However, there are limitations in hardware like payload capacity, battery life, and flight stability in rainy and windy conditions. Plus, wide adoption of drone delivery for last-mile deliveries is not feasible at the moment, given the regulatory and legislative concerns regarding data privacy and safety.
However, these small aircraft are still useful for inventory management in the supply chain. The reason drones can be used for these purposes is that the commercial use of drones indoors is not regulated. Autonomous drones can be seamlessly integrated into the workflow processes at distribution centers, warehouses, air cargo operations, fulfillment centers, and 3PL facilities.
What Are the Advantages of Drone Technology in Logistics?
There's a strong value proposition for using drones in the supply chain industry as leveraging it can potentially provide a positive impact on employee safety, customer satisfaction, and the bottom line. Also, creating more clarity in the supply chain tasks like the monitoring of container yards, an inspection of supply chain infrastructure, cycle counting during inventory, among others.
Below are the advantages of using drones in logistics.
Reduction of workforce requirements and equipment
Can substitute for fundamental tasks of employees in cases of shortage or high attrition
Reduced operational and shipping cost for drone-based last-mile deliveries
Multi-party collaboration such as 3PL vendors and their clients since drone solutions are easily scalable and highly customizable. Integration with the warehouse management system is seamless with most drone solutions.
What's the Future of Drone Technology in Logistics and Supply Chain?
Global brands are investing in research and development of drones for logistics. Companies like Google, Amazon, DHL, and Walmart are actively experimenting with autonomous systems and robotics. On the other hand, 3PL firms are using drones to comply with their Service Level Agreements they have in place with their clients. There have been significant advancements of drone hardware in the last few years, paving the way for an intelligent automation software that makes drones cost-effective for logistics and supply chain uses.
In the end, it's obvious drones will transform the supply chain process dramatically in the future, given the strong interest and investments in the technology. Drone-based deliveries, however, can only be scaled if logistics firms can work effectively with the government, regulators, and customers to overcome barriers.