Last mile logistics operations are often opaque, frustrating, and unpredictable—and these problems only get worse as you scale. As a modern shipper, you need a connected, streamlined solution that can handle as many trucks and orders as you can throw at it. You need fast, accurate routing for ever-changing delivery parameters. And you need real-time data flows to empower proactive customer service. DispatchTrack provides all this and more by way of a highly-scalable SaaS solution, built out over more than 10 years in tandem with our customers in the shipping industry.
180 million
deliveries per year
10 years
of refining and building out features
24/7
customer service
Optimize Your Routes in Seconds
Whether you have 50 trucks or 5,000, our machine learning-powered route optimizer can find the most efficient distribution of deliveries in the time it takes to refresh your email.
Our model accounts for low bridges, differences in drive time between different vehicles and loads, live traffic patterns, and service times for larger deliveries and installations—in short, all the things that make last mile operations so difficult. The result? ETAs that are reliably accurate.
Automatically ingest orders

Drag and drop to customize routes

Re-optimize on the fly

Reduce Costs Through Increased Efficiency
Not only does our precision route optimizer reduce your total distance traveled, it also takes resource costs, truck selection, and service tiers into account.
That means that in addition to decreasing fuel costs, you can maximize vehicle capacity and save your most skilled resources for the jobs that really require them. Because our solution covers the whole last mile from end to end, anything that can be optimized—will be optimized.
DispatchTrack customers save costs by:
Reducing fuel costs through shortened driving distances

Increasing capacity utilization through smart truck and resource allocation

Boosting customer retention by meeting preferred service time windows

Visualize the Last Mile in Real Time
When it comes to the last mile, exceptions are the rule.
Customers aren't home; drivers get delayed. Our real time visibility dashboard gives you the power to take in a 360-degree view of your last mile operations at a glance and pinpoint exceptions as they crop up. We show you your trucks, routes, orders, and order statuses all on a single screen. This way, you can find the data you need in a matter of seconds and call your customers before they call you.
Gain confidence about what's going right in the last mile

Instantly spot and focus on exceptions

Significantly reduce inbound customer calls

Seamlessly Manage Drivers with Automated Updates
Our system is all about connectivity—that's why we connect dispatchers to drivers with an intuitive, easy-to-use driver mobile app.
Dispatchers can send updated routes with turn-by-turn directions to their drivers without picking up the phone, and drivers can send photos, notes, signatures, and other status updates for each order at the time of delivery. You can even track driver performance over time to create driver-adjusted ETAs for new routes.
Document deliveries in real time—even without cell service

Communicate with drivers without picking up the phone

Get instant alerts for failed or partial deliveries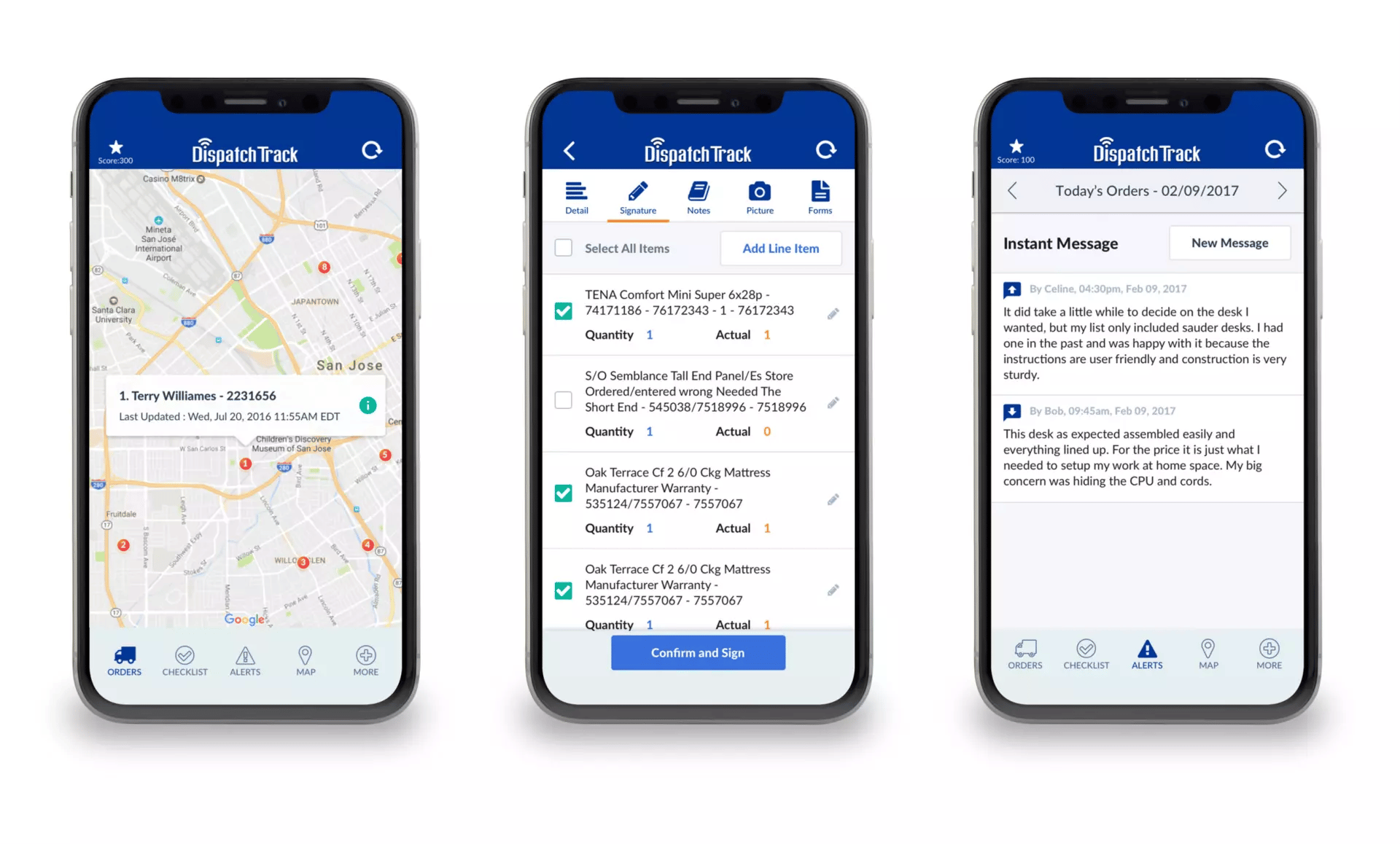 Dispatchers can send updated routes with turn-by-turn directions to their drivers without picking up the phone, and drivers can send photos, notes, signatures, and other status updates for each order at the time of delivery.
Communicate with Customers for a Stress-Free Delivery Day
The same principle applies to dispatchers, consignees, and B2B clients: no one likes not knowing.
We can help you provide ongoing automated communication with consignees before, during, and after the day of delivery—from automated texts the night before, to live status updates via our customer-facing tracking portal, to no-contact surveys after delivery and service are completed. When something isn't going to plan, we give you the power to visualize it quickly and work with the consignee to address the problem. The end result is that customers feel that they're being taken care of—and stress levels are reduced across the board.
Limit late deliveries with precision routing

Automate customer alerts

Reschedule deliveries same-day with the push of a button

Save Time with Self-Scheduling
Give as much visibility—and as much control—to your customers as you want.
At the farthest end of the spectrum, you can give customers the power to self-schedule deliveries within specified time windows and then track those deliveries at a high level of granularity. Here, our system automatically squares requested delivery times with the route management parameters that you've established, as well as any existing commitments or constraints. Not only does this give customers a valuable feeling of control—it also reduces your total labor.
Dynamically match capacity to customer availability

Offer flexible scheduling to both B2B and B2C customers

Scalably reduce scheduling costs