Tracking a Delivery Order?
You've come to the wrong place—try checking your texts or emails to find a tracking link from your seller or distributor.
DispatchTrack's last mile optimization platform helps thousands of businesses route and track their deliveries in real time every day. We also offer businesses the ability to give customers live status updates on deliveries via a customer order tracking portal.
If your seller offers order tracking
Not all DispatchTrack customers offer order tracking, but for those that do, there are 3 ways to track your order:
Find the tracking link in your recent emails or texts

Check your retailer or service provider's website

Call your retailer or service provider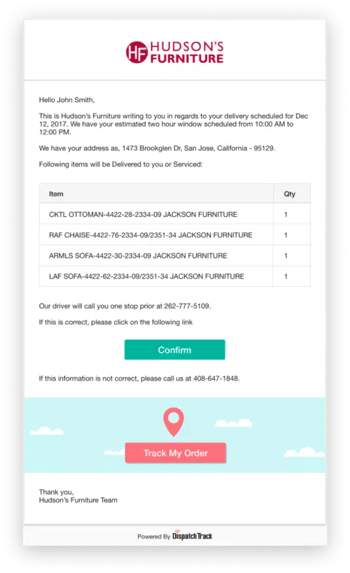 Email/text tracking link
Companies that have this functionality enabled will automatically send tracking links via text or email. Check any recent communications from the vendor to see if they contain a link to the live order tracker.
The text or email will come from your retailer or service provider; it may contain your address and a list of items in your order.

You'll see a green button allowing you to confirm your information, and another button below it that says "Track My Order," which you can click to access the tracking portal.

If your seller offers a call-in order tracking option, you'll see the phone number listed here as well.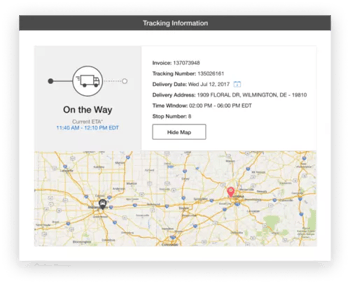 The right link will take you to a company-branded portal that shows the location of your order on a map.
It will show your order or invoice number as well as your order's status, scheduled date, scheduled delivery window, and the most up-to-date expected ETA. The portal will even display what stop number you are compared to the stops the service team has already completed.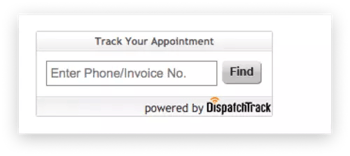 Retailer/service provider website
In addition to offering access to a tracking portal via text or email, some retailers and service providers will offer an order tracking widget on their website.
If you see the tracking widget, you can enter the phone or invoice number associated with your order. When you do, you'll be redirected to the portal above, where your order details, expected ETA, etc. will be displayed.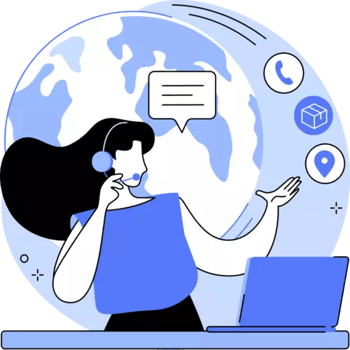 Call-in order tracking
Some vendors will also offer automated call-in order tracking. If you prefer to find out the status of your order by phone, you can call your retailer or service provider at their listed number.
If they have this functionality enabled, you'll be presented with a menu of options. Choose the option for order tracking by pressing the indicated button, and the system will read out your order status.
Note: if you're calling from a number other than the one associated with your order, the system may ask you to input the order phone number before providing order details.
If none of the options above are available, your seller may not have customer order tracking enabled. You may have to call and wait to be connected to a customer service representative in order to check on the status of your delivery.