How and Why 3PLs Should Automate Billing and Settlement
Learn How Automation Can Improve Your Cash Flow and Radically Reduce Rework
A lot can happen on the day of delivery. Your delivery team might have to maneuver a couch up a flight of stairs, requiring an extra access charge. Or they might scuff the floor during an appliance installation and need to offer a discount. Traditionally, capturing this information after the fact has been difficult and time consuming—resulting in slow, laborious client invoicing and driver/carrier settlement processes for 3PLs. But as the last mile evolves, billing and settlement are poised to evolve with it. Read this white paper to learn:
Why the error rate for processing invoices manually is so high—and what to do about it

How to capture access charges and other adjustments automatically across the last mile

What impacts an automated billing and settlement workflow can have for your operation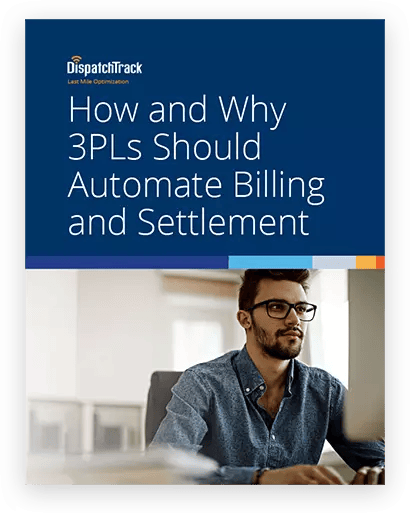 Elevate Your Last Mile Logistics Operations
Talk to an advisor about how DispatchTrack can help increase efficiency and transparency.
Route optimizer maximizes assets and gives accurate ETAs

Instant proof of delivery documented with notes, photos, and GPS timestamps

Continuous communication with customers via text, email, and phone keeps them in the loop

Mobile app connects you with drivers in real time

Automated billing & settlement ensures accuracy and improves billing efficiency

Single pane-of-glass dashboard shows status of every truck at a glance