Customer Satisfaction & Social Media
The internet and social media have made the customer have more choices at their fingertips and a stronger voice. With the ubiquitous smartphones equipped with social media platforms, the itch to share information and seek information is phenomenal. Communication is just a touch away and therefore reaching a large audience that was not thought possible before in seconds.
Your customers are eager to share their opinions, experiences to their social media contacts. And, the contacts know your customer which add more value and weightage to their expression- good or bad! You have access to a large trusted audience through your customer. Therefore, it is important that you leverage social media to improve your reputation and customer satisfaction. Most often, we share our good and bad experiences with our social media friends, and we rely on our friends' experiences to determine our choices. How many times did you post on social media for recommendations or reviews? Which channel would you go by to decide your purchase?
If you have to stay competitive, you need to capture the feedback; customer's satisfaction or dissatisfaction at the right step, which is, right after completion of delivery. Timing is important. It is critical to record this key information in a timely fashion, otherwise, you may lose the opportunity to correct any mistakes or capture the delight. If a customer is very satisfied, it would be very useful to provide them with the opportunity to share their experience on the social media platform of their choice right after delivery where they are eager to show their Jubilation. The moment is captured, any issues can be addressed immediately, and their captive audience on social media gets to know about their good experience with your business immediately, which is by far the best marketing tool.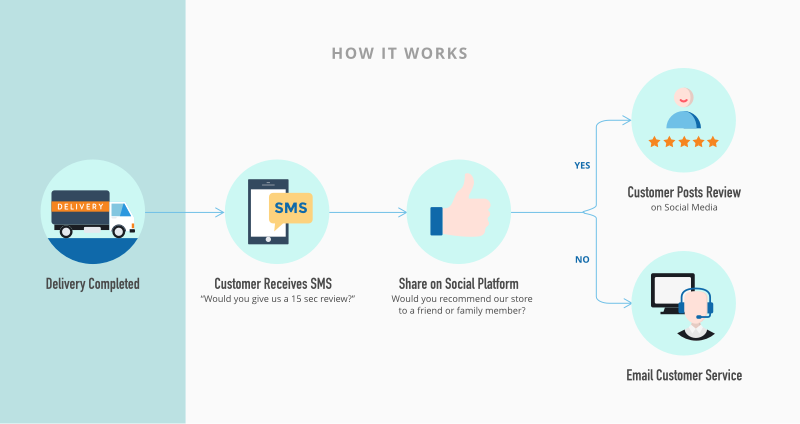 A retail buyer's' journey starts with awareness and moves to consideration, purchase, loyalty, and finally advocacy. What better channel than Social Media do you have to leverage at each of these steps? You can engage with your customers through social media at each of these steps to influence them and build loyalty and enhance satisfaction. There is a growing trend towards capturing feedback, conducting surveys using social media which help you stay connected with the customer.
Customers want more choices and control over time windows. They want delivery companies to delivery when they want. The world is going online and customers expect to be able to self-serve and do as many activities as possible online. They shop online, they expect to select their delivery windows online, and they expect to give feedback online. This gives them the freedom to do things when they have time, rather than be interrupted during their work. This adds a feeling of being in control of the process rather than being powerless before a delivery organization.
Customers want to have multiple options to choose from and decide to receive the shipment based on their convenience and not be disturbed from work or be dictated by the delivery organization. They don't want their well planned schedules to be disrupted by a phone call and be told that their delivery will arrive the next day or in a couple of days, and them having to re-arrange their lives to make time for it. People are looking for convenience and ease of use in the services they book. When they are able to book everything online from a doctor's appointment to a janitor service, why not their delivery of goods? Customers want to be able to select the delivery time windows online during their free time, so that they can look through their calendars and easily pick a time window that best suits them. And, if you offer them what they expect, they are more than willing to share their joy on social media while they share their ire with equal fervor!
For a delivery organization, this can be a huge challenge. The delivery process is an expensive process, and capacity constraints along with the ability to go to a certain location on certain days is a genuine constraint.
You need an intelligent system that is able to understand your trucking capacity constraints and still provide choices to the customer so that their need and your capacity are a perfect match. And, you are able to provide customer satisfaction and enhanced experience management harnessing the power of social media.