Third-party logistics (3PL) companies come in various sizes, and shapes, yet they all face the same challenge—winning new contracts and retaining current customers.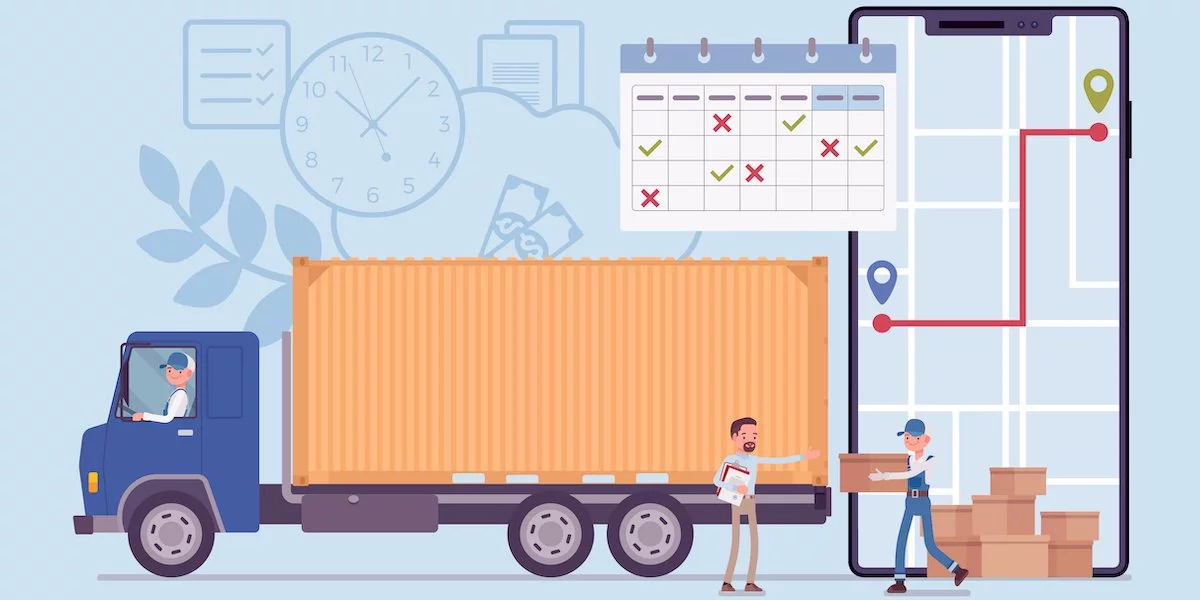 3rd party logistics companies are dealing with a rate-driven market landscape making client acquisition and keeping existing contracts harder than ever. But new technological solutions offer 3PLs new opportunities to stand out from the competition. Here's how route optimization in particular helps 3PL firms improve their operations so they can win new clients, keep existing ones, and ultimately improve their bottom lines.
Reduce 3PL Logistics Costs
The clients of 3rd party logistics companies are spending a huge amount of money on their supply chain and logistics processes. 3PLs that use route optimization software can help their clients lower these operating expenses.
Modern Route optimization solutions use artificial intelligence (AI) to help businesses get to their customers on-time and with the least cost. In this way, 3PLs can reduce costs in multiple areas and pass those cost savings on to customers to become more competitive.
Fuel expenses:

Fuel costs account for more than 30 percent of a given fleet's overall operating expenses—but with optimized routes that shorten the distance travelled between stops, you can reduce the number of miles driven and thereby cut down fuel costs.
Vehicle maintenance costs:

Lessening the time vehicles spend on the road for each order can also lessen the need for constant vehicle maintenance. Delivery vehicles can also stay in active rotation longer when the company reduces the need for repairs.
Accidents and violations:

Route optimization software can use algorithms to find the most optimal routes—taking into consideration various factors such as restricted roads and traffic. This, in turn, can minimize the drivers' exposure to traffic and its attendant safety risks. Fewer accidents for the fleet means cutting down the company's insurance premiums and expensive liability costs.

Save Time
Your advanced routing software should be able to consider a number of constraints, including time windows, traffic conditions, average truck speeds, and temperature constraints when finding the fastest routes. This is, to put it frankly, more than a human planner could hope to optimize for unaided.
Unlike human planners, route optimization solutions only take a few seconds to analyze and provide routes and accurate expected times of arrival (ETAs). This saves significant labor hours. The right 3PL freight software also provides the best routes, saving drivers time on a per-stop basis.
Plus, route optimization also reduces transportation delays as it helps both drivers and dispatchers find routes that will shorten transportation times and avoid traffic congestion. It also helps dispatchers provide drivers with real-time assistance and new alternative routes when drivers experience unexpected delays. In other words, route optimization can increase agility in a way that saves even more time.
Reduce Late Deliveries
In addition to shortening routes, route optimization solutions also provide drivers with shorter and more exact ETAs. By factoring in all the information provided by the planner or dispatcher such as exact location, a time window for each drop-off, volume, goods type, and weight, among others, a worthwhile route optimizer can set ETAs that drivers can actually meet consistently. Other tools like Google Maps can't take trucking-specific factors into account when calculating travel times, which means they're not especially useful for last mile delivery runs.
At a high level, shorter and more accurate ETAs decrease the likelihood of not-at-home situations. They also decrease the odds of irate customers calling in about late deliveries. Given that customers tend to call their retailers—rather than 3PLs themselves—accurate ETAs can go a long way towards providing measurable value to your clients.
Boost Flexibility
3PL companies provide services to clients that are dealing with plenty of procurements and fulfillment activities using various delivery models. Route optimization software helps 3PL companies support all the complicated processes and models of their clients.
Retailers and others turn to 3PLs to solve problems and decrease complexity—which means that the more flexibility you can build into your own routing and dispatching, the more easily you can simply provide clients what they need without getting bogged down in details. If you can flexibly handle issues that crop up on the day of delivery without stressing out your clients, you've just found another way to add value and make your services indispensable.

Boost Customer Satisfaction
Making customers happy these days goes beyond providing them with a great product at reasonable prices. A great delivery experience is now necessary to keep loyal customers and acquire new ones. For businesses, this means achieving a high on-time arrival rate consistently.
Nearly all of the benefits of route optimization that we've been discussing above fundamentally revolve around this idea. When you accept goods from your clients for distribution, you're delivering more than customer orders—you're delivering their brand. Placing the needs of end customers first and working to keep them happy shows your clients that you're taking their brand image seriously—and doing everything in your power to boost that brand image.
Improve Customer Service
Of course, keeping end customers happy is only one piece of the customer service puzzle—you also need to keep your customers (i.e. shippers) as happy as possible. To wit, customer service is one of the top reasons for failed 3PL partnerships. Luckily, optimized routes make it easier than ever to provide high quality customer service to shippers. For one thing, accurate ETAs can help you keep customer service requests to a minimum in the first place. Beyond that, the ability to respond flexibly to situations developing on the day of delivery means that when shippers call in with concerns you can address them more effectively. The result is fewer frustrating encounters where you simply can't provide customers with what they want.
Businesses get the services of 3PLs for various reasons. These include expanding their businesses, handling unusually high order volumes, and streamlining operations, to name just a few. Regardless of the reason, it is the job of the third party logistics provider to support their clients to achieve their business goals. Getting route optimization software helps 3PL companies become more valuable to their customers by decreasing costs, increasing agility, and improving customer satisfaction.