To continue the conversation from my last blog post, we will look deeper into oversized home delivery communication and the speed of delivery. As we discussed, most consumers don't understand (or care) that the process of delivering oversized products is far more complicated than that of parcel sized items. They expect their bedroom suite to arrive in the same amount of time as the set of sheets they purchased for it.
History
Back in 2001, there were a minimal number of companies to choose from who could fulfill over dimensional home delivery shipments. Moreover, none of them did it well. If an order arrived at the consumers' door within 30 days of it leaving the warehouse, it was marked a successful transaction, and if it were in good condition, that was even better. Also, there were limited communication capabilities to inform the consumer about the status, location and estimated timing of their delivery.
These were challenging times for a developing industry. The industry has certainly matured over the past 20 years, seeing positive service results across the board.
However, it's not enough; there are still many challenges to overcome to begin approaching the service expectations of parcel deliveries. As we discussed last time, the goal of most eComm retailers is seven days (which is still longer than a parcel delivery). Today most oversized shipments are completed in 10-14 days.
Factors Determining Travel Time to Consumer
Choosing the type of carrier who can deliver safely and on time
The availability of final mile delivery assets
The distance the items needs to travel
Carrier Selection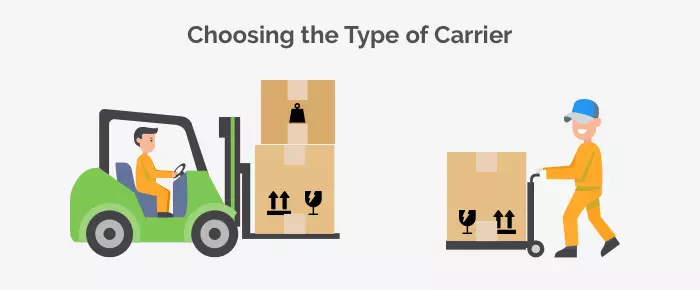 Using a general-commodity carrier is usually a faster solution on the front end, but the risk of damage and the time required to recover from a loss is what drives many retailers to use specialized carriers instead.
The main categories of oversized products bought online today are furniture, appliances, exercise equipment, and electronics. General-commodities carriers ship many different types of heavy freight, everything from skids of canned goods, to car parts, or 55-gallon drums of oil. Due to this access to more freight, they fill their trucks faster, thus increasing the opportunities to fulfill deliveries quicker. They typically use forklifts to load and unload items to and from trailers. Every time a shipment goes through this transfer cycle, the opportunity for damage increases considerably.
Specialized Carrier
Many eComm retailers have moved away from "general-commodities carriers" and towards the use of "specialized carriers", especially in the furniture category. A specialized carrier is a transportation provider that's trained in dealing with furniture and other types of breakable goods and carefully handles the merchandise. Typically they hand load and unload the items, decreasing the opportunity to damage the pieces. They usually only go through a limited number of loading and unloading cycles.
Final Mile Delivery Assets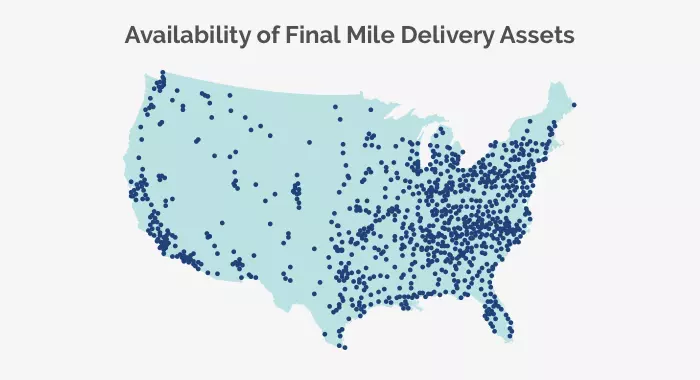 Another factor increasing the time to deliver oversized items to the home is the availability of final mile delivery assets. UPS and FedEx each have thousands of trucks and drivers, enabling them to reach virtually every address, every day. For the most part, final mile home delivery companies do not have the delivery density to make stops to all areas each day. Many go to specific zip codes a couple of times a week, and in outlying areas, maybe once a week at best. This adds additional days to the delivery process.
Distance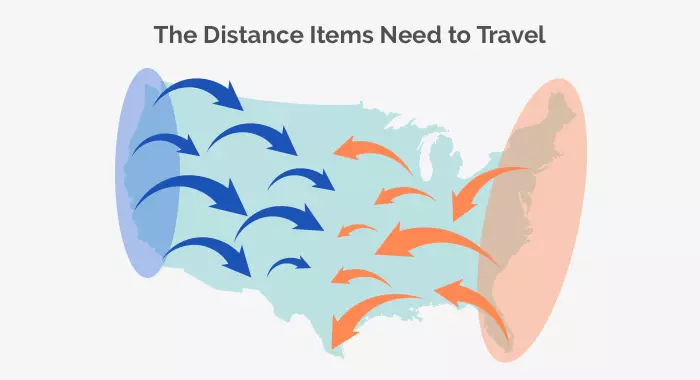 In the U.S., many of the oversized items being purchased online today are manufactured off-shore, with most of the inventory being warehoused on the east or west coasts. When purchased, items are loaded onto tractor trailers and shipped to home delivery companies located as close as possible to the end consumer's address. Depending on the shipper, this step can take between three and ten days. For comparison, parcel sized items are airdropped at the local delivery market within hours of being ordered.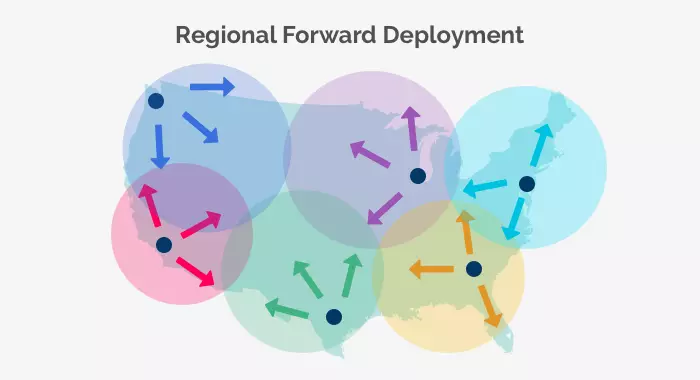 To reduce the amount of time this step requires, many eComm retailers are moving towards "forward deployment" of their inventory. At a minimum, they are staging their items on both coasts, with others shifting to forward deployment in multiple regions of the country to get their products closer to the end consumer. Challenges arise moving to this model, the biggest being cost, the next being having the right inventory in each location. This is especially difficult to control if the SKU list is extensive or has many options the consumer can customize.
Leverage today's top logistics tools to provide a plan that best serves both you, and the consumer.
Many eComm retailers are either considering or in the process of implementing the ability to allow consumers to select their delivery window at the time of purchase. Light, cloud-based SaaS systems, like DispatchTrack are capable of taking in the data, considering all the options and level-loading your trucks for efficiency. On the consumer side, it curtails resentment by handing over some control before creating the routes and the level-loading plan. The way our system is built, date and time options available to consumers through self-scheduling (text or phone calls) are updated in real-time to match the availability you've set for trucks, drivers and range.
By putting the consumer in control of their delivery window something positive happens. When you involve the customer by letting them choose their delivery time and date, it gives them a sense of agency over the process, and they feel empowered. Somehow the wait doesn't seem so long when they get to decide when their wares arrive.
Takeaway
When you add the right technology into your workflow, it can mitigate the most significant pain points of oversized deliveries for you and your customers.