Our Route Optimizer Reduces Your Fuel & Labor Costs
With the recurring nature of food deliveries, a small increase in the cost-per-case can add up over time and affect your company's bottom line. As an owner, you always need to worry about creeping costs and inefficiencies.
In the Food Distribution and Wholesale business, when it comes to delivery there are specific areas you need complete control over:
Planning
Level-Loading Your Trucks
Minimizing Labor & Fuel Costs
Adhering to Customers Preferred Time Windows
The Ability to Route Deliveries by Customer Tier Rating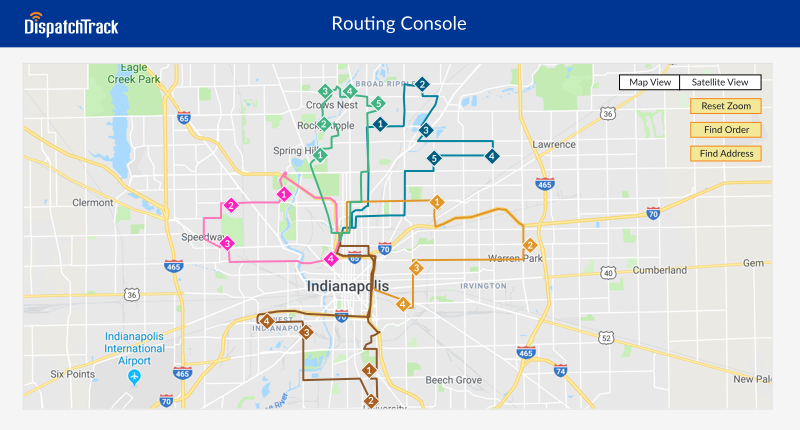 Organization & Simplicity
Planning
Our system can plan and schedule routes according to customer tier ratings and their preferred time windows simultaneously. The software also sorts your goods by type — dry, frozen, or refrigerated — and is capacity aware, so your trucks are level-loaded. Set up preferences for repeat customer once and then let the software sort it out.
Route Optimizer
Let the Data Do the Driving. Route hundreds of deliveries in seconds with our best-in-class Routing Engine. Delivery trucks aren't always fuel-efficient, but with Optimized Routing, you can reduce fuel costs and trim down drive times to customers.
Labor costs are your biggest expense and as you plan your routes you need to minimize long days and overtime for your drivers. Our system is built to improve productivity at every turn, for your drivers, customers, and your profitability.
DispatchTrack's continuous route optimization algorithm allows you to control all the parameters, in an easy-to-use map-based graphical user interface. Choose between three different types of routing logic, including an option that gives you the best of both worlds, Hybrid Routing.