Discover DispatchTrack
Learn how DispatchTrack's features can help you optimize the last mile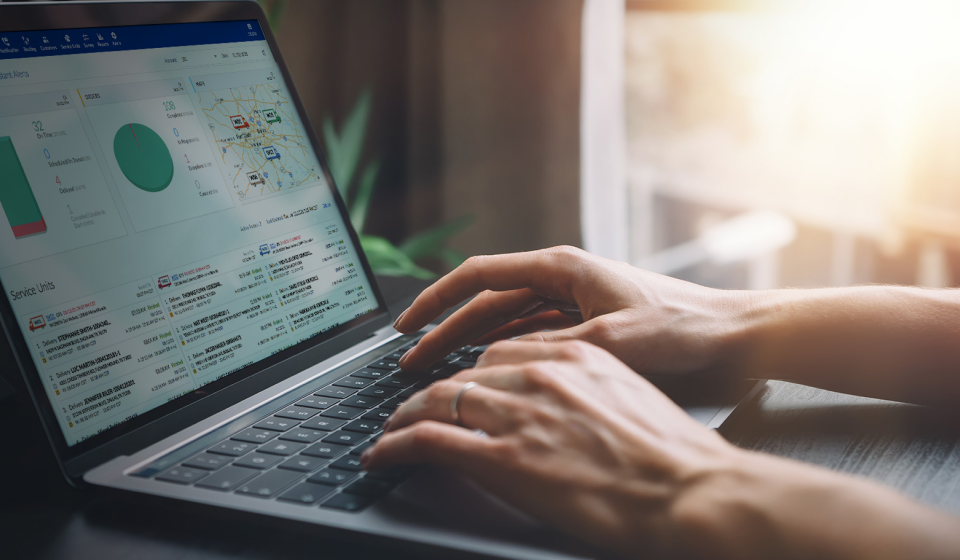 DispatchTrack's robust last mile optimization capabilities are expanding every day. As we continue to add new features aimed at benefiting our users, we'll continue to update this page. You can also find this information—with added details and context—in your portal by scrolling to the bottom of any screen and clicking "Knowledge Base."
Customer Communications:
Contact Free Delivery
Contact free delivery provides businesses the ability to capture customer signatures electronically in the proof of delivery. This ensures that customers are not required to directly sign on the driver mobile device, and drivers don't have to hand over their devices to customers. With Contact free delivery enabled, DispatchTrack will send out an automated email and/or text notification to the customer to capture their electronic signature, along with a timestamp.
Tracking Widget Animated Page
Using the tracking widget, customers can now access an animation that shows the truck carrying their order moving in real time. Users can more easily visualize where their orders are in the world and adjust their behavior accordingly (e.g. by not leaving the delivery location while the driver is nearby).
HTML Branding Configuration
Users can now brand many of the touch points involved in communicating with customers. Through HTML-customization, you can configure the look and feel and insert your own branding into messaging with your customer. HTML branding is available for the Track Widget Template, Delivery Receipt Template, Customer Forms, and all email notifications.
Call Notifications
This feature allows you to contact your customers through texts, emails, and phone calls to confirm the delivery day and time window along with verifying their addresses. The feature also allows the customer to track their ETA throughout the day with a tracking widget link in their email and text messages. The feature further allows drivers to automate sending a call/text ahead offering customers a live ETA based on real-time traffic. (Drivers can also add additional time to the calculations if necessary.)
Survey by Text
Increase the feedback you receive from your customers by offering them the opportunity to receive customer surveys by text. DispatchTrack can generate a thank you note to be sent out on completion of the survey. This functionality makes it quick and easy for customers to provide feedback, giving your customer care team the ability to keep tabs on user experience.
French, Spanish, and U.K. English Confirmation Notifications
DispatchTrack makes it easier to serve French- and Spanish-speaking customers. You can send automated pre-call notifications in Spanish, French, or English. Upon receiving a call, customers can choose their desired language from the available options, and the system will automatically provide them with their day of delivery/service and time window estimate in that language. Companies can also provide more information for their customers utilizing our available tags. This further formalizes the customer notification process, freeing up time for your office staff while providing your customers a structured customized message.
Pre-Routing Call
The pre-routing call feature allows companies to send a call, email, or text out to customers letting them know their order is scheduled for delivery for a particular day. This feature saves office staff time that would otherwise be spent contacting customers to let them know their product has arrived. The pre-routing call formalizes the process for these calls and expedites the process of scheduling customer deliveries. This feature also helps capture customers who may not be available, such that you can avoid routing them—thereby reducing wasted labor associated with pulling product for those orders, etc.
Call-in Attendant
Customers can now call in to a given operation to learn the status of their delivery in real-time. In the event an order is not confirmed, the system allows customers to confirm their appointments as well. This is an automated process and will save your staff time and money cutting down on extra phone calls.
Google Reviews
DispatchTrack offers functionality to encourage customers to publish their positive experiences at a store level to social media platforms. When customers are evaluating their buying and delivery options, more than 90% will read reviews to determine the quality of a business. Every star increase has been shown to result in about a 5% increase in sales, with the total quantity of reviews giving added weight to your score in the minds of potential customers. By encouraging users to post the positive feedback captured in your surveys, you can improve your brand reputation and drive new business. (Optional feature)
Chatbot Integration
Podium and Snapengage integrations give users the ability to take in order information and schedule deliveries via chatbot. Users can customize chatbot workflows to ingest relevant data from end customers and compare requested delivery dates and times with existing capacity, creating a seamlessly automated scheduling flow. This has the potential to even further reduce manual effort involved in order management and scheduling while offering more modern functionality and UX to end customers. (Coming soon)
Survey CAPTCHAs
Make sure that actual humans are filling out your customer surveys by integrating CAPTCHA challenges into the surveys you send customers. By enabling this feature, you can improve the quality of the data you gather from surveys by weeding out bots, thereby gaining a clearer picture of customer satisfaction levels.
Reporting and Alerts:
Route Start and Arrived
The new "route started" feature allows drivers to click a button to indicate they are starting their day—which then triggers a text and email to all relevant customers letting them know their order is "Out for Delivery." Effectively capturing mobile numbers increases the usefulness of this feature—which is one that last mile customers are used to experiencing through UPS or FedEx type deliveries (it's important to offer the features that your customers are used to experiencing on an everyday basis). This message also allows the customer to start tracking their deliveries. The new "arrived" feature sends a text to the customer letting them know that the delivery/service team has arrived. This is triggered when the driver selects Start on the mobile device. (Optional paid feature)
Email Alerts
DispatchTrack offers a robust set of automated alerts under the Admin tab. To name just a few examples, users can opt to receive automated alerts when call ahead service orders are triggered, service order addresses have been changed, service order contracts have been changed, driver checklists have been completed, and more. This helps enable comprehensive visibility into delivery operations without increasing manual effort.
Custom Reporting
Customers have long requested the ability to create their own reports or customize the provided standard reports in order to create reporting that better reflects their specific business needs. We now support customization for a limited number of popular reports as a "Beta." We will continue to add more reports to this feature and potentially migrate all remaining reports to the new reporting style over the course of 2021.
Routing and Scheduling:
V2/V3 Routing
Our newest routing algorithms are faster and take into account historical traffic patterns. V2 routing makes it easy to route add-on orders—for companies that run large numbers of trucks, the new algorithm has the potential to make dispatchers' jobs even easier. For businesses that have to deal with different skill levels when routing, the V2 algorithm offers functionality to handle their unique business. V3 routing offers all the same functionality, but with UX improvements that make it possible to load routes even more quickly and visualize them even more easily. Users can toggle between the V2 and V3 routing interfaces by swapping in "routingv3" for "routingv2" in the URL bar when the routing portal is open.
Customer Pickup
Customer pickup orders can be uploaded into the new Customer Pickup (CPU) application directly from your POS Software. This includes a search option to look up a customer's order. The CPU app includes all normal DispatchTrack features including pictures, notes, and signatures—all for orders where routing is not part of the process.
Reservation System
The reservation system allows companies to set up their rules and capacities to determine what options they want to provide the customer to select their own delivery/service date. Operations can send invitations to customers via email, text, or phone and give customers multiple choices for delivery/service date based on the predetermined parameters. This feature is billed out by the order and best suited to companies that spend significant time on phone calls to confirm appointments. (Optional feature)
One-Way Traffic Routing
Using our route optimization functionality, companies can now take into account one-way streets to create routes and turn-by-turn directions that are more efficient. This, along with our real-time traffic data, significantly increases the accuracy of ETA calculations.
Pickup Logistics Automation and Automated Capacity Management
In scenarios where customers are picking up orders at stores or warehouses, we enable users to automatically schedule pickup orders for the next available time based on specified capacity thresholds. Warehouse and store associates are notified when a new order needs to be picked; once the order is ready, the buyer is automatically notified. Once the buyer arrives, a customizable text workflow takes in all the information that store and warehouse associates need to complete the transaction as quickly as possible (e.g. make and model of car, contactless pickup request, etc.). This reduces wait times for pickups, while increasing predictability for store and warehouse associates.
Auto Dispatch
DispatchTrack's auto dispatch feature is aimed at customers who have predefined routes and drivers, for which orders needs to be assigned and routed without requiring manual routing within DispatchTrack. When an auto dispatch order is sent to DispatchTrack with the required data, DispatchTrack will create a route, assign a driver and truck, and calculate the scheduled time window. The driver can then easily access the route via their mobile phone. (Note: auto dispatch will be supported only via the API method of order import.)
Address Lock
DispatchTrack now supports the customer address lock feature. When a customer address is locked, DispatchTrack will not update the address information for any subsequent order updates. This is beneficial in cases where users may be updating incorrect customer addresses in DispatchTrack. Customer addresses can be locked by clicking the "Lock" icon.
Drivers/Driver Application:
Signature Capture
The signature capture option now allows you to type in the customer's name after they've signed for the order. In the past some signatures were illegible.
Add Line Items in the Field
Delivery teams or technicians can now add new line items at the time of their appointment in the field, e.g. in cases where teams are selling a protection kit, bed frame, or other add-on at the time of service/delivery. These line item notes are updated in real time, giving you a record or any additional or unscheduled work that your technicians or service teams may have performed on the day of delivery.
Custom Forms and Fields
Our release forms have been enhanced such that companies can offer customized waiver forms, disclaimer forms, etc. for customers to sign. This same functionality can also be used for driver checklists. Custom fields allow companies to add items for their drivers or technicians to check off in the field, such "Did you remove all the packaging? Yes or No;" ''Did you wear booties? Yes or No;" "Was there any damage to the property? Yes or No;" etc. This allows a higher level of communication from your teams in the field, while also allowing you to filter your orders tab with more granularity.
Driver Logs
It's possible to automate your driver service hour logs with DispatchTrack eLogs. You can make sure your drivers are compliant and can show proof of hours to the DOT. Drivers are able to easily separate driving hours from on-duty hours (i.e. loading and unloading). As regulations change, it's increasingly important to have an easy solution to make sure companies are compliant. (Optional feature)
Driver Vehicle Inspection Reports
Driver Vehicle Inspection reports allow drivers to conduct truck inspections based on customized checklists. They can then enter odometer readings and other truck details. This increases companies' visibility into their assets and can enable more proactive maintenance and fleet management efforts.
Driver Scoring
The driver scoring feature allows companies to effectively measure driver performance based on their activities. We recommend encouraging your drivers to utilize the program and then meaningfully rewarding positive behavior. Driver score s recognizes drivers for getting completed customer surveys, taking pictures, arriving on time, and successfully finishing orders.
Barcode Scanning
To better control inventory and track items delivered to customers at a unit level, users can utilize both cameras on mobile devices scanned through DispatchTrack or bluetooth based barcode scanners along with our mobile application. The items being loaded into trucks (i.e. the driver checklist) can be scanned easily. Your company can also use the scanner to offload the merchandise for customer signature.
Billing and Settlement:
Automated Billing and Driver Settlements
The new driver settlement and billing tabs allow you to customize different rules for paying your drivers or invoicing your customers, along with adding in ancillary charges or adjustments as needed. These new features allow you to automatically calculate the settlement and billing amounts based on your rules and then approve the figures. This simplifies the process of reconciling the amount your drivers get paid (based on your parameters) and subsequently invoicing your customers. This functionality also enables users to generate reports in a CSV format, which can be exported to your accounting software. (Optional feature)
3PL Automated Invoicing
Third-party logistic companies can now automate their invoicing processes through DispatchTrack. Our billing manager program allows logistic companies to set up individual accounts and custom billing rules for each of their retailers. 3PLs can set up all their primary charges and add in any ancillary charges as needed. This program gives users a single platform to manage their revenue and all settlements. This empowers logistics businesses to more easily pay their drivers, taking into account actual deliveries made, accessorial charges, not-at-home situations, and much more.
Integrations:
Telematics
Companies that would like to receive GPS histories along with vehicle information (like speed, engine status, hard braking, acceleration, and a history of activities) for a given vehicle can attach a GPS device directly to that vehicle and track that information within DispatchTrack. This feature also allows for IFTA reporting, e.g. if you are crossing state lines, such that you can easily account for fuel tax.
Azure SSN/OKTA Sign-on
With single sign-on capabilities through Azure SSN or Okta, your users can more easily manage their passwords and login information across different platforms. By signing in to Okta or Azure, they're able to automatically sign in to DispatchTrack as well. This has the potential to reduce password-related help desk requests and speed adoption of DispatchTrack across different touchpoints throughout your organization.
API Database Integration
With open API and web services integration, we give users the ability to create bi-directonal pathways for data between DispatchTrack and other enterprise applications—e.g. warehouse management systems, point of sale systems, etc. This helps businesses ensure accurate, up-to-date data across different solutions, decreased manual effort for data integration, and ultimately smoother processes connecting delivery to other business areas. To get started with DispatchTrack's API integrations, reach out to customer support or your sales rep for documentation.
Support:
Multilingual Technical Support
DispatchTrack's support team is ready to field customer questions and resolve issues 24 hours a day, seven days a week. We now offer technical support in English, Spanish, French, and Portuguese.
If you would like to learn more about any feature on the list please contact sales@dispatchtrack.com, call 866-437-3573 Ext 1 or contact your personal account executive directly.