Route optimization is a critical component in logistics and transportation planning. For one thing, it paves the way for timely deliveries and helps in lowering shipping costs. For another, it can help calculate more precise delivery windows and thereby decrease the odds of a customer-not-at-home.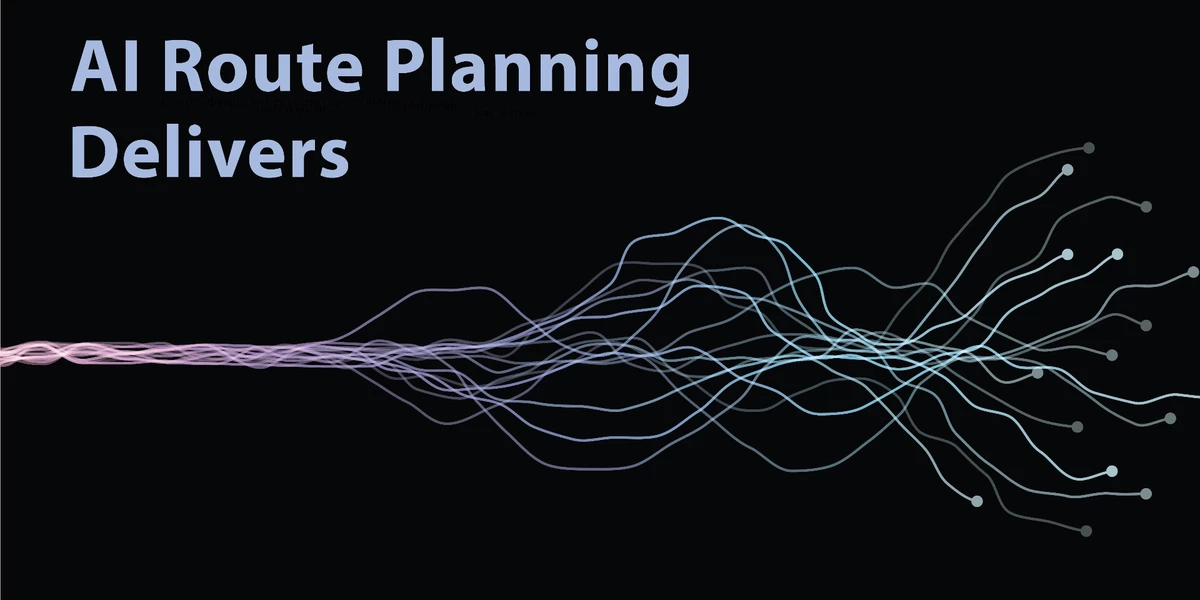 Of course, routing is a complex task. There are several factors affecting route efficiency, and all of them must be considered when planning. Finding the best route to take involves analyzing hundreds of data points rapidly and being able to leverage that analysis to your advantage.
Planning for the most optimal routes is even harder when companies are dealing with a high volume of packages and heavy traffic congestion. Fortunately, artificial intelligence and machine learning can help. By using complex algorithms that take into account historical and real-time data to identify optimal routes, you can power up your route optimization, improve supply chain performance, and ultimately reduce costs and delight customers.
How does AI-powered route optimization provide all that? Below are just a few of the ways…
Reduced Time Lost to Traffic
A report released in 2016 revealed that traffic congestion costs the trucking industry as much as $74.5 billion or equivalent to 1.2 billion hours of lost productivity yearly. Traffic congestion costs are close to $6,500 per truck per year.

That was four years ago. Fast forward to 2020, and eCommerce growth has been exponential, with many companies offering the same day or next day shipping options. Plus, returns of orders almost account for 30% of road time. All these are forcing more delivery vehicles on the road, creating more road congestion.
Route planning solutions represent one of the best ways of avoiding lost fuel and time due to worsening traffic conditions. While human planners might have a sense of where the traffic is worst at what times, and how that might impact ETAs, AI route optimization can do more than that: it can learn about traffic patterns over time and take them into account while routing. This means that your drivers can avoid traffic jams more effectively, and you can more easily account for inevitable traffic delays when calculating ETAs.
Faster Delivery Times
Competing with big brands and industry leaders like Amazon means offering faster delivery options. That's why optimizing routes is crucial in ensuring the timely and efficient delivery of packages to customers. Route optimization helps ensure that company fleets are spending less time on the roads to meet customer demands for same-day order fulfillment by taking road conditions, traffic, and the destination all into account simultaneously.
Human planners can't really find the routes with the shortest distances between stops unaided. And true efficiency only becomes more unlikely when last minute orders and cancellations start to pile up. But if you can dynamically reroute orders on the fly using AI and machine learning, you can start with the most time-efficient and then keep them time efficient.
Help in Discovering New Potential Routes
Route optimization also means making use of all available resources or infrastructure. Right now, when route planning has to be done by hand, the easiest thing is to stick with what you know and churn out similar routes on a regular basis—even if changing conditions are rendering those routes less optimal. After all, road conditions change over time. Traffic patterns change and evolve. Only with AI route planning can you easily remain diligent about tracking the efficiency of your routes and find alternative routes when the old methods are getting the job done.
Saved Time
The less time a vehicle spends on the road the more you can power the reduction of fuel cost and paid hours. Being off the road an hour early can save a company several hundreds of dollars a week, which over months and years, adds to significant added expenses.

But driver hours aren't the only source of saved time. When you have AI-powered route optimization, you effectively automate away all of the laborious manual effort that would otherwise go into figuring out the right arrangement of stops.
Saved time is obviously equivalent to saved money—which is exactly the goal of implementing this kind of technology. But it's also about more than that: decreased time required for routing means increased agility at every stage of delivery. It would be virtually impossible to manually reroute a day's shipments based on order cancellations in a timely fashion. But if you're stuck with your current routes, you don't have the freedom to accommodate customers' last minute needs. If, on the other hand, you can reroute rapidly, all of a sudden you're empowered to delight your customers with agile delivery experiences.
How to Choose an AI Route Planning Solution
Okay, so far we've mostly talked about the benefits of route optimization—specifically the kind that happens via a routing software solution. But to provide the benefits we've been discussing, does it really need to be AI-powered?
Yes. Yes it does. Why? Because so many different factors can impact drive time for trucks (everything from what the cargo is to who's actually driving), it's not enough to simply calculate ETAs based on distances. You need a system that gathers large quantities of information and learns from them over time—i.e. a machine learning- or AI-powered route planner. In this way, your routes will actually improve over time, instead of slowly getting less efficient because the software can't keep up with changing conditions.
This is how you create workflows that actually account for the differences between trucks and cars, for instance. By the same token, it's the easiest way to adjust ETAs based on who's driving—or based on how traffic patterns have changed over the course of the year. In this way, you don't just optimize the routes in terms of distance, you also ensure that your ETAs are precise and accurate. This, in turn, forms the foundation of high quality customer experiences that will ensure repeat business and great reviews.
eCommerce is growing exponentially, and any business looking to compete against the billionaire brands online must ensure that drivers use optimal routes. Otherwise, enterprises will lose money because of idle time, higher fuel consumption, and more driver hours. Fortunately, AI and machine learning are now being bundled into logistics software at affordable price points, so you can leverage AI route planning to ensure fast, on-time, and cost-effective deliveries.